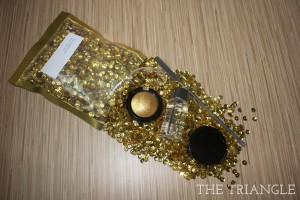 When I saw Pat McGrath's Gold 001, I was determined to be one of the 1000 people who got to experience to the magic of international make-up artist Pat McGrath's first beauty product. By limiting the product to a batch size of 1000, Gold has induced envy in any luxury beauty enthusiast.
Right off the bat, the packaging is flawless and gives the ultimate first impression. When I pulled my Gold 001 from its box, I was greeted by a beautiful golden pouch with a transparent section, allowing you to peer into the glitter and sequin paradise that lies within. While the package was almost too pretty to open, I of course did and dove into the sparkly world of Pat McGrath.
Gold 001 is a gold pigment that can be utilized for multiple purposes and looks amazing on eyelids, lips and even eyebrows. While the brows and lips would be used for more editorial type purposes, it is great for people who want to add an elegant edge to their look. The kit contains the actual gold pigment, a mixing liquid, a scraper and a second-life container. By adding more or less liquid, you can make the product as subtle or opaque as you desire.
I took the scraper, picked up a small amount of the pigment and transferred it into the second-life container. I wanted to see what this product was really capable of, so I mixed in a small amount of the liquid and mixed it until I had a paste like consistency. Being a pigment and a liquid, the best method of application for this product and look is your fingers. The product went on so easily and felt like liquid gold gliding over my lids. While I had originally thought that it would be too dramatic to wear out casually, I fell in love with the eye catching but not overly drastic outcome. By being able to control the concentration of the pigment, Gold 001 can be used for a multitude of looks, both subtle and standout. Gold 001 has been one of the most pleasant makeup experiences and exceeded my expectations. I have nothing but positive things to say about this product and am looking forward to my next Pat McGrath purchase. While Gold 001 is currently unavailable, Pat McGrath Labs will release new products so be sure to check for those dates to experience their magic.