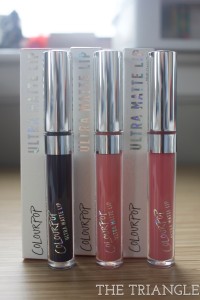 There has been a lot of buzz about the cosmetics brand ColourPop. The indie brand based in Los Angeles offers a line of cruelty-free products that includes items such as highlighters, lipsticks, eyeshadow, blushes and bronzer for makeup enthusiasts at an extremely affordable price. ColourPop has become an undeniable cult classic and I decided it was time to see for myself what all the hype was all about.
Since I am obsessed with lipsticks and have only found a few formulations that I have fallen in love with, I decided to order their Ultra Matte Lip lipstick. I heard that the stay power was amazing and the product was, overall, of excellent quality. After applying a coupon I found online, I checked out and bought six products for $31— an impressively low price.
The lipsticks I purchased included Dr. M, Guess, Solow, First Base, Clueless and Donut. Essentially, Ultra Matte Lip is a liquid lipstick— it applies with a more liquid-like consistency and immediately dries on your lips. High end brands such as Anastasia Beverly Hills and Kat Von D offer a similar product, but for about three times the price. If you are looking for something that is extremely matte and will last through a good amount of the day, then this is a product you should consider.
The staying power on the Ultra Matte Lip lipstick really is incredible. Through eating, drinking and hours of daily activities, the product stayed on my lips with no need for touch up. These lipsticks are also very pigmented and you do not need to work hard to achieve the color you see in the package. The product is fairly easy to apply and went on both smoothly and evenly when applied correctly. The Ultra Matte Lip comes in not only pinks and reds, but in bold colors such as dark green and purple.
There are a few drawbacks to the product. If you do not like a drying formula, then this product may not be for you. Like most liquid lipsticks, the product can leave your lips feeling pretty dry and will stick to the lines of your lip. To combat this, I recommend applying a light lip moisturizer before the product. The brand itself recommends you exfoliate your lips first, but a moisturizer would suffice. You should also avoid over applying the lipstick. The product looks best when it is applied in a single even layer, otherwise it will begin to look clumpy and uneven.
Overall, if you are looking for a product that you can rely on to stay put all day or night, want to experiment with fun colors and are looking for a new affordable product, then you should give ColourPop a try. At such a low price, you haven't got much to lose.