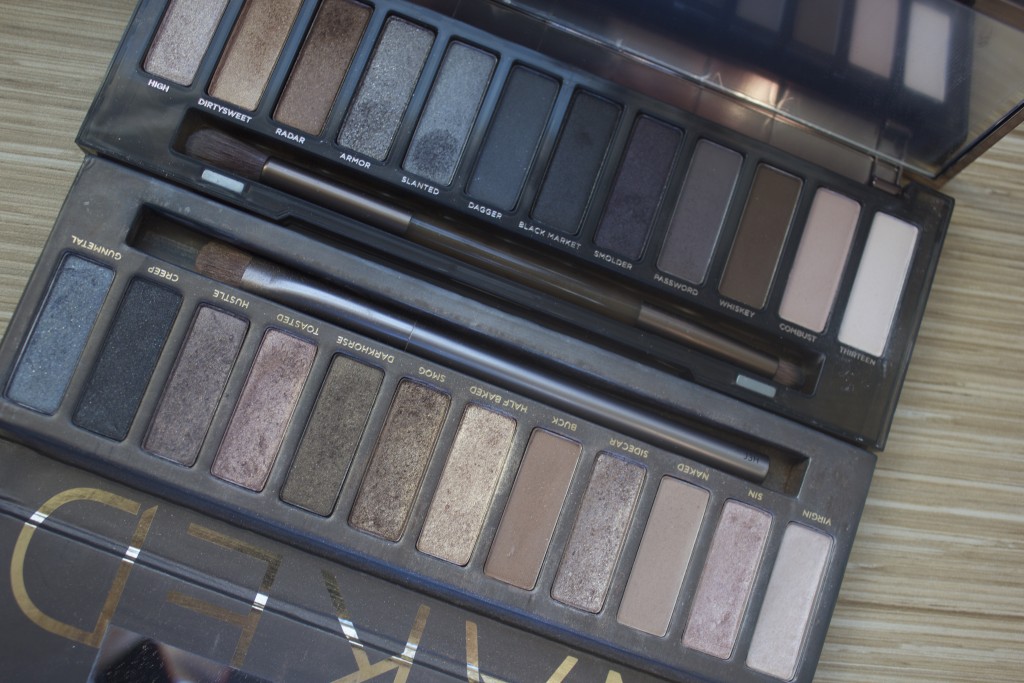 When Urban Decay announced it was releasing the Naked Smoky palette last summer, beauty lovers and fans of the Naked palettes jumped for joy. Being a longtime Naked 1 user and lover of Urban Decay products, I too was enthusiastic about this new palette's release. At first, it was quite difficult to get a hold of this elusive palette, so eventually I had given up and had gone on a quest for something better. However, the buzz about this product died off relatively quickly, and soon I had completely forgotten about it. Months later, I received this palette as a gift, and was excited because I remember how hyped up it was. However, when I really took a look at the colors and put them to work, I wasn't as into it as I thought I would be.
Naked 1 vs. Naked Smoky: Which is best for you?
As a self-proclaimed makeup connoisseur, I know a great palette when I see one. Some of the questions you should ask yourself before you spend $55 on an eyeshadow palette can include: How many wearable colors are in here and how many will I never use? Can I achieve a diverse array of looks using these shades, or will I be limited? Do I already own shadow colors like these? Yes, it's a makeup palette, not brain surgery, but nonetheless this is an important investment you are making.
If you want easy, flattering and neutral colors that can be worn day to night, the original Naked palette will be your best friend. However if you are going for a night out and want something dark and dramatic, the Naked Smoky will be your go-to.
The original Naked palette contains 12 shades of shimmery beiges and browns, warm gold and bronzy hues, as well as a highlight and two darker shades that can be used for a dramatic look. All the shades, excluding the darker ones, blend wonderfully and can be mixed for different looks. These shades all look good together so this palette is almost a no-brainer. These colors also range in intensity, so if you're not the best at eye makeup, the lighter colors will allow you to create a look that is light and natural — and you don't have to worry much about being precise. If you want to roll out of bed and get ready in ten minutes, you can throw on two shades, like Sidecar (beige shimmer with silver micro-glitter) and Smog (deep coppery bronze shimmer), and look like you put more effort into the mornings than you actually did.
Have you ever gotten a palette and looked at it and thought, "Well this is nice, but why are there two shades in here that clearly don't belong?" To me, the Naked Smoky palette is a place where all those colors get together and try to make something out of themselves. Yes, all those grays and blacks and brown have finally found a home. The 12 shades include browns, gray, darker gray, bluish gray, bluish and purplish black, along with a few highlights. These colors are all pretty, but what would have made this palette so much better was a more noticeable difference between the shades. They blend well together, but almost so well to the point that it is hard to see the difference. Although all of that basically sounded like me telling you why you shouldn't get this palette, I have seen some really pretty looks made with this palette. I don't wear dark colors that frequently, but if your go-to look is something darker in color than this palette would be great for you.
Overall, I think the quality of these products are great and can be really worth it. Which one you choose is up to you and your personal style. Both palettes can make amazing looks and they blend well. Also, always remember to blend — it's really important. I highly encourage you to visit the nearest Sephora and try out these palettes to figure out which one is right for you. In some cases, you may find that neither of these products are your cup of tea. That's completely okay; you can look around for something you think you would like better and find one you feel happy with. I would recommend the Too Faced Chocolate Bar (which smells like chocolate) and the Naked 2 or 3 as alternates to these palettes if you aren't feeling either of them.