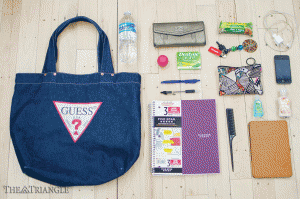 Entertainment and arts management student Leresa Gripper emptied her purse to show us her daily essentials:
Her sturdy yet stylish Guess bag allows her to carry things around campus. It was a gift from a Celebrity Stylist on Campus event by People StyleWatch.
Why two pens? She "must always carry a black and a blue pen for contrast while taking notes in class."
A comb, for those bad hair days when hair needs to be fixed.
Her iPad is easier and lighter to carry than a laptop, perfect for taking notes and for those four-hour lectures.
In her makeup bag: mascara, eyeliner, lipstick and lip gloss, for a quick touch-up between her classes.
Evolution of Smooth lip balm keeps her lips smooth.
Gum, the perfect way to keep breath fresh.
A Nature Valley granola bar is a must during Gripper's early morning classes.
A bottle of water keeps her hydrated.
Her Coach wallet contains all of her most important belongings.
Hand sanitizer, to keep her hands clean.
Lotion is necessary, Gripper said, especially during the winter.
"I can't leave the house without my phone. I use it for music and to keep myself busy during classes."
In case her phone runs out of battery power, she has a charger on hand.
Gripper prefers using the sections in her Five Star notebook to having to carry a bunch of books around campus.
The African beaded key chain holding her keys was a gift from her Kenyan friend.
Photo by Courtney Denton