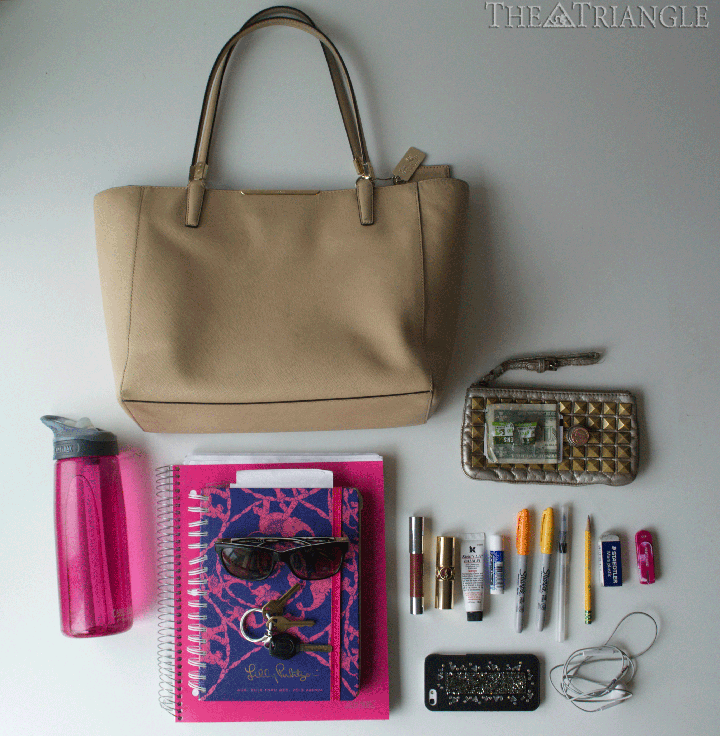 Sarah Yohe, a junior design and merchandising major with an area of interest in interior and product design, feels strongly about her bag: "Carrying a purse definitely makes a statement. It's the perfect finishing accessory that carries absolutely everything you need to survive the day. I think my purse says that I know when to be sophisticated and professional, but I also think that this bag goes with just about every style and mood." Yohe gave us a look at what she brings around with her in her bag for a successful day of work and classes.
Madison East West tote in flesh color, which she loves for its structure and size. "It's perfect for taking to class and work, and I know that I'll have it for the next few years without worrying about it going out of style."
Staples-brand pink notebook: "It's a three-subject, which is perfect because I don't have to worry about carrying around 500 notebooks."
A Lilly planner, which she uses for important events, dates, homework, and her work schedule. Although Yohe claims not to be a huge Lilly fan, she loves how the agenda is organized. "It's my OCD dream come true."
Her roommate's Ray-Ban glasses that she is borrowing because she left her Tory Burch sunglasses at her relative's house over break.
Sarah always has her keys with her. "I used to have a million key chains on my key ring and got so sick of all of that, so all that I carry now are the keys for the main door to the house I live in, my apartment and my bike lock."
She can't go anywhere without her iPhone earphones and she swears people notice her jamming and mouthing the words to songs as she walks to class.
She always has her Camelbak water bottle with her. "I aim to drink 80-100 ounces of water to stay hydrated, and the bottle is 25 ounces. So it's super easy to keep track of how much I drink." She believes it's the most important item she carries around with her and she credits her clear skin to the amount of water she drinks daily.
Sarah said she is very picky about the pens she uses, but she loves the Bic Ultra because of how nicely they write. "It's hard to find a good pen that isn't constantly smudging, since I'm left handed."
She always carries a No. 2 pencil and a Mars plastic eraser with her. She made the switch from mechanical pencils because of the lead always breaking. "The Mars plastic eraser is incredible and erases so well!"
SEPTA tokens are stashed in her bag in case she needs to go into Center City.
The spare cash in her bag is a rarity. "I'm usually completely broke and almost never have cash on me, but thanks to Christmas, I have some emergency cash."
She uses the basic Chapstick brand to keep her lips from chapping on the cold and windy days.
When she feels the winter wind chapping her skin, she rubs Khiel's mango-colored lip balm on the really dry spots on her face or hands.
She carries Clinique's chubby stick in Grandest Guava, which is a lip look similar to her natural lip, but is a touch deeper to add color.
She always carries her Dragon Card around because her classes in URBN require scanning an ID to enter the building.
Her red debit card is always floating around in her bag for whenever she needs it.