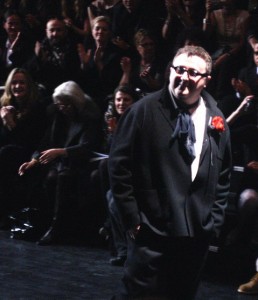 It has been a turbulent week in the fashion industry. First, Alexander Wang announced his departure from Balenciaga. Following the sudden report, it was announced that Raf Simons parted ways with Christian Dior. To top it all off, it was confirmed Oct. 28 that Alber Elbaz stepped down from his position as creative director at Lanvin.
Elbaz had designed for the renowned French fashion house for 14 years. According to recent reports, Elbaz split with the house after experiencing creative differences with Lanvin's owner Shaw-Lan Wang and CEO Michele Huiban. A spokesperson later confirmed they had disagreements that could not be resolved.
The 54-year-old designer is known for creating collections of feminine pieces and helping to increase the visibility of the French brand in the fashion world. Elbaz's success over the years  has garnered him celebrity fans that include the likes of actresses including Meryl Streep and Emma Stone.
The successful designer started in fashion as Geoffrey Beene's assistant in New York before joining Guy Laroche in 1996. After his time there, he moved to Yves Saint Laurent to design for the Rive Gauche ready-to-wear collection. Subsequently, he was laid off after Gucci Group took over, but soon after found a home at Lanvin in 2001 after it was sold by L'Oreal to Taiwanese investor Shaw-Lan Wang.
The news came as a shock since Lanvin seemed to be the perfect fit for the talented designer. Since his departure, however, there has been growing speculation whether Elbaz will replace Simons at Dior.