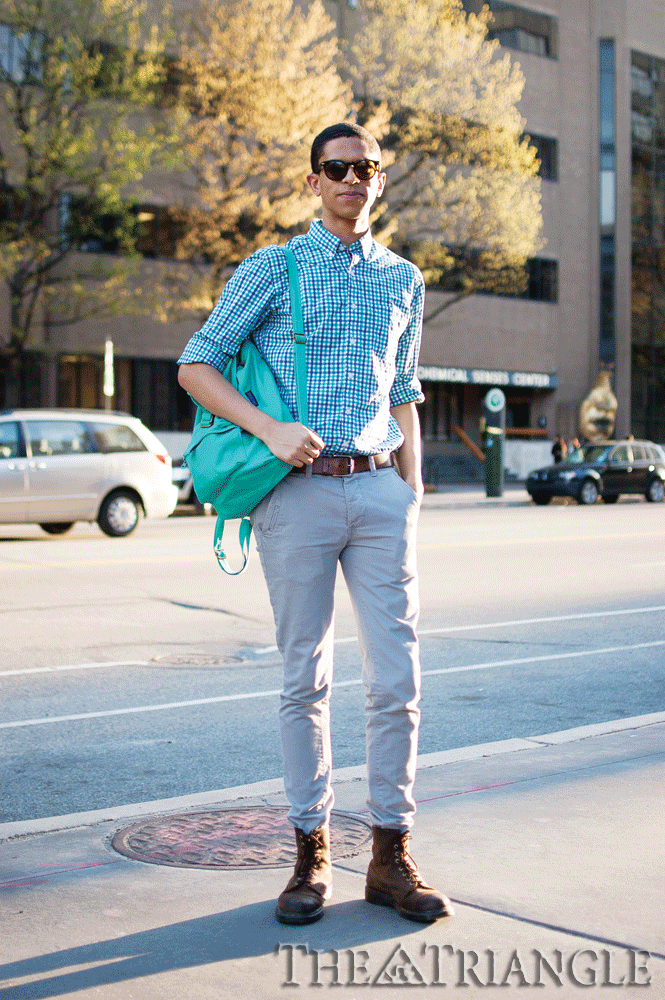 Michael Bruce | Photography and graphic design | Freshman
Wearing: J. Crew shirt, BAGGU backpack, Topman pants, Express belt, Dr. Martens boots
Q: As a taller guy, do you have a strategy for finding pants that are long enough but still fit well?
A: Finding pants that fit well is a challenge; it just took a lot of scouring the Internet for brands that make my size. ASOS, Topman, American Eagle and Express all carry some styles in my size.
Q: You said you use your eyeglasses and sunglasses interchangeably. Do you have a favorite eyewear brand?
A: Warby Parker is my favorite eyewear brand. They are relatively cheap and make a variety of styles. Oliver Peoples is my favorite brand for an eyewear splurge.
Q: What are your favorite, but perhaps less well-known places to shop in Philadelphia?
A: P's & Q's on South Street is my favorite local shop. They have a well-curated selection of clothes, grooming products and home goods! Duross & Langel is a great skincare store on 13th Street, because what's a great outfit without nice skin to accompany it?
Q: Is there a trend you're excited to rock this summer?
A: I am excited for the return of Hawaiian prints as I am a huge fan of floral anything, and I think there is a lot of potential for some great pieces this season. I'm also excited for an increase in men's bag options as I like to carry a lot around — one can never be over-prepared!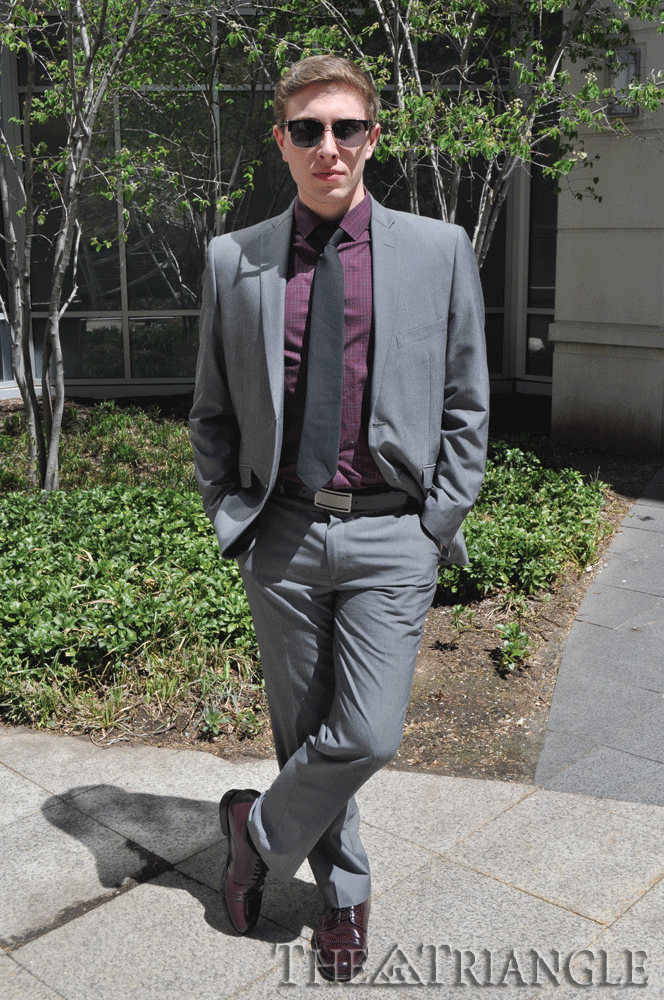 Jason Mobley | Marketing | Sophomore
Wearing: Alfani suit and tie, J. Ferrar shirt, Bostonian shoes, vintage Ray-Ban Clubmaster sunglasses
Q: What is your current co-op position, and where do you work?
A: I currently work as the new family events coordinator for Drexel University in the Office of New Student and Family Programs.
Q: Describe to us, what is your own personal style?
A: I would say that my style is modern, well-cut with a tinge of prep. I don't like anything too out there, but I'm always willing to try something new, and if it doesn't work for me I move on! That's what's great about fashion — it never stops evolving.
Q: Where do you get your style inspiration?
A: I really enjoy taking what high fashion does and making it more suitable for everyday use. So if I see something in a magazine (let's say in GQ), I usually say, "Well I could do that but maybe make this different." Less expensive options like H&M and Urban Outfitters allow you to create a style on a budget, but my favorite[s] are thrift stores. That's where you can find truly unique pieces. 
Q: What do you like to wear in the office?
A: Almost everything that I own is fitted, [but] not tight. I don't like the idea of baggy, especially in a work environment where looking professional is absolutely key.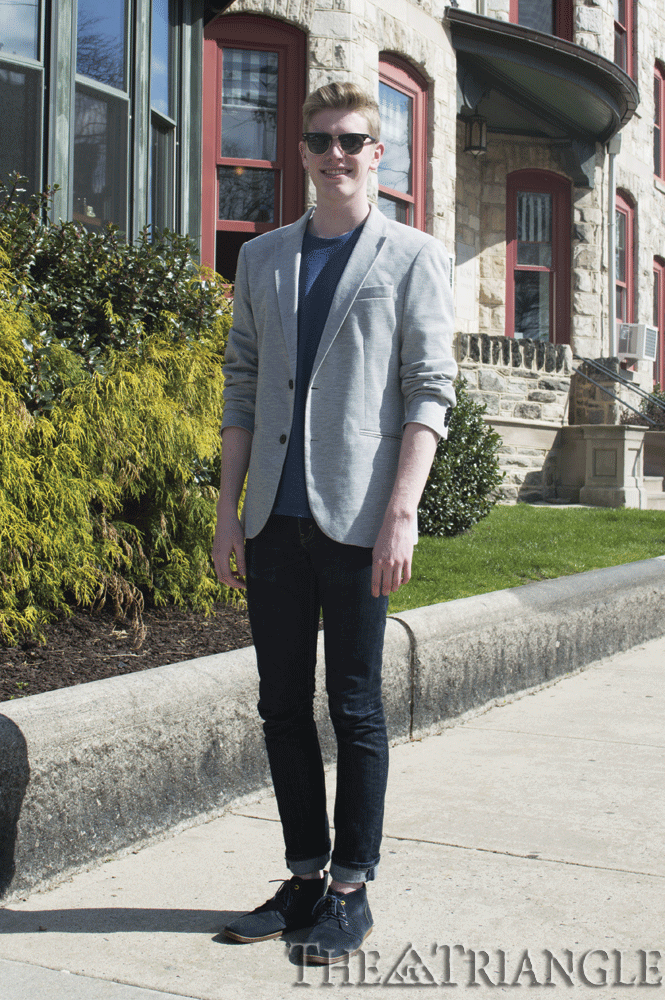 Ted Swanson | Graphic design | Sophomore
Wearing: Zara blazer, Banana Republic shirt, Levi's jeans, ALDO shoes, Ray-Ban sunglasses
Q: Describe your personal style.
A: My personal style is pretty minimalist.  I like to keep things simple and streamlined. Although I can appreciate a bold pattern, I tend to gravitate towards neutral colors, clean lines and subtle prints.
Q: From where do you get your style inspiration?
A: I get it from my grammy. She and I are kindred spirits, and we have always joked about how we both have expensive taste.
Q: Now that it's spring, what are you excited to finally wear in the warmer weather?
A: I just bought some new chino shorts online for the warmer weather. For the most part, I'm saving my money for my study abroad trip to London this summer.
Q: What major style rule do you live by?
A: I never mix black and navy.
Q: What fashion advice would you like to give to guys on campus?
A: My advice to Drexel boys is step up your shoe game. Girls will silently judge you solely based on the type of shoes you are wearing. You might be cute, but if you're sporting 40-year-old-dad sneakers, you're not going to get her number.