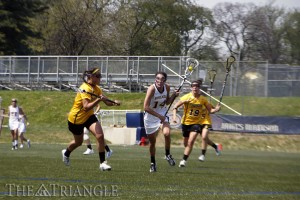 The Drexel women's lacrosse team is finally set to open its season Feb. 16 on Vidas Field against George Washington University.
The Dragons finished off their preseason play with a trio of scrimmages against Georgetown University, Temple University and the University of Pennsylvania Feb. 8 at Franklin Field. Newly-appointed head coach Hannah Rudloff believes her team ended their preseason with quality play.
"We played well this past weekend in our scrimmages against Georgetown, Temple and Penn," Rudloff said. "We have so many new faces that we need all the exposure to competition we get. Our team is going to mature every time we play, and I was pleased to see a good starting point in the scrimmages against quality teams."
The Dragons were selected to finish fifth in the Colonial Athletic Association this season, with two-time reigning champion Towson University chosen to lead the way. While Rudloff believes her team is being underestimated, she is confident that the ranking can work to the Dragons' advantage.
"Of course you never want to be picked fifth, but the conference is really extremely strong this year," Rudloff said. "I think we know how good we are, and if people want to overlook us that's probably to our advantage. I can't say I'm surprised with the pick since we lost a great group of seniors to graduation, but I think people are going to be really surprised with the new talent that's going to be out on the field."
The Dragons are heading into their new season with a crop of new faces set to take the field and make an impact. Eight freshmen will be joining an already solid core of players for Drexel. Despite the new faces, the most noticeable impact could come from second-year players who are ready to expand their roles on the field.
After a CAA All-Rookie season, Emmy Duffey returns to the field for her sophomore season looking to make an even bigger impact. Rudloff has high hopes for the returning sophomore.
"She will add a huge spark to our midfield," Rudloff said about Duffey. "She has an energy that just can't be contained and once she takes off no one is going to catch her."
Milan White, Eva Winiarski and Lizzy Carr will also be looked at to have impactful roles this season.
Execution will be key for the Dragons early in the season. With a young group of players, Rudloff believes it is how well the team bounces back from mistakes that will define their season going forward.
"Now is when we put together everything we've been working on for the last four months, and it's just going to come down to how well we execute," she said. "But again, we're a young group, and we're going to make mistakes. How we bounce back from mistakes, and how we play off of different situations on the fly will be a big determining factor in our success."