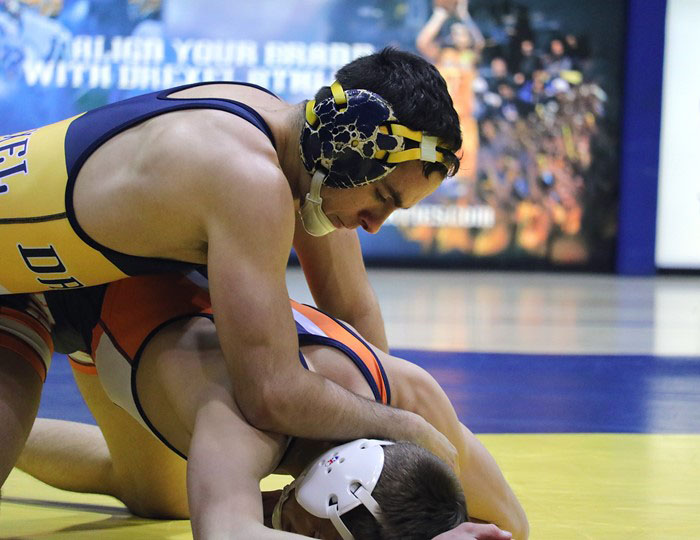 The Drexel University men's wrestling team has had a great 2018 start, with an excellent finish at the Southern Scuffle. More wrestlers than ever placed at the competition, showing that they can compete against the best wrestlers in the nation. This trend continued when they played at the Daskalakis Athletic Center against Franklin & Marshall College and Keystone College Jan. 11. They had huge wins at their home field, F&M 30-12 and Keystone 50-6.
This match was a big one for the Dragons, as they faced one of their Eastern Intercollegiate Wrestling Association rivals, Franklin & Marshall. Two Drexel wrestlers, redshirt seniors Zack Fuentes and Tanner Shoap, started off strong with wins in both of their first matches. Fuentes got a 7-2 decision over Edgar Garcia in the 125-pound weight class, and Shoap had a 17-1 technical fall over Mike Simonetti in the 133-pound weight class. However, Drexel's luck ran out soon after, with losses in both the 141- and 149-pound weight classes. Drexel got back on track with graduate student Garett Hammond, who had a 16-8 major decision over Emmett LiCastri. This win seemed to spark some life into the Dragons, as they came back with wins from multiple wrestlers. Redshirt freshman Felix Belga at 165 pounds squeezed out a 3-1 win in overtime over Dylan Gumaer with 21 seconds left in the match. This caused a chain reaction of wins on the Drexel team, with victories by redshirt seniors Austin Rose and Alex DeCiantis and redshirt junior Stephen Loiseau. Rose finished his match with a win over Josh Young, 18-2, in the final 26 seconds. DeCiantis finished off his opponent, Steven Mercadante, 20-4, while Loiseau had a 17-0 win over Reid Robilotto just 2:45 into the match.
Against Keystone College, who is coached by a former Drexel wrestling star, Steven Mytych, the Dragons had a similar story. Fuentes started off the night with a 21-6 technical fall win over Colby Bronzburg at 125 pounds. Shoap did not have the same luck as he did against Franklin & Marshall as he took a loss against his opponent in the 133-pound weight class. However, redshirt freshman Julian Flores got the team back on track with a 14-4 major decision over Harry Marr at 141 pounds. Keystone did forfeit at 157, 165, 174, 184 and 197 pounds, but in the end, Drexel freshman Vincenzo Pelusi finished off the day with a 19-4 technical fall win over Josh Newhart.
Drexel will try to continue their success as they head to New York to face the United States Military Academy and Columbia University Jan. 20.