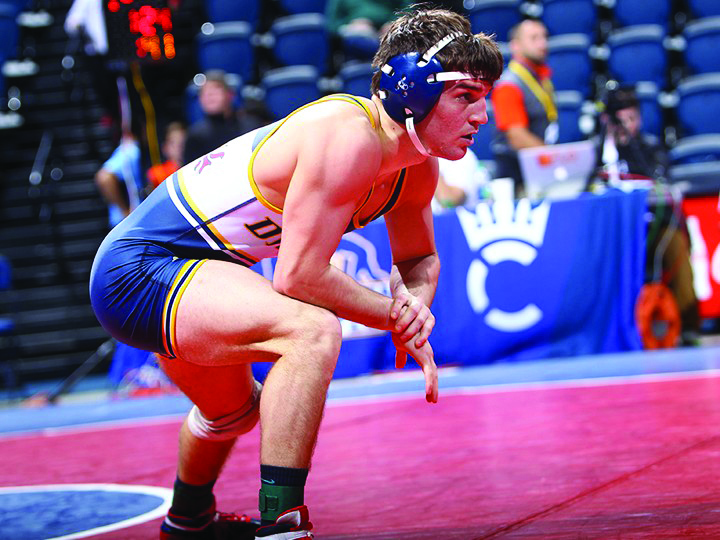 The Drexel University men's wrestling team took to the mat this past weekend against against Binghamton University Jan. 20 and Oregon State University Jan. 21. The match against Oregon State was filled with emotion and excitement as Drexel hosted a spirit night event.
However, before battling in front of a raucous home crowd, Drexel went on the road to take on Binghamton. The match began with the heavyweights as junior Joey Goodhart looked to start off the night with a win. Goodhart wrestled well and earned Drexel its first match win of the night with a solid 6-2 decision.
Following Goodhart, the match reversed course and went to the lightweights for the next matchup. Junior Tanner Shoap took to the mat for the 125-pound weight class. He followed Goodhart's victory with a win of his own by way of a 4-2 decision.
Interestingly, the next match featured a 125-pound weight class regular in junior Zack Fuentes. This time, however, Fuentes was wrestling in the 133-pound weight class. Fuentes did an excellent job in the higher weight division earning another win for Drexel. He defeated his opponent in a 6-4 decision.
Senior David Pearce wrestled in the 141-pound weight class. It was a tough match with both parties wrestling hard but unfortunately Pearce lost this match by close 2-0 decision.
No. 17 senior Matthew Cimato captured another victory for the Dragons in the 149-pound weight division as he was able to defeat his opponent in a close 5-4 decision.
In the 157-pound weight class, junior Ryan O'Connor lost a tough matchup by way of a technical fall. Freshman Dakota Greene took the same outcome in the 165-pound weight division. Freshman Ebed Jarrell put up a tough fight in the 174-pound class, but lost in a 3-1 decision.
In the 184-pound weight division, junior Alex DeCiantis took a tough loss to a No. 11 ranked Steve Schneider. Schneider was able to defeat DeCiantis on a 10-3 decision.
To close out the match, junior Joshua Murphy lost a tough matchup in the 197-pound weight class. Drexel ultimately lost to Binghamton University by a final team score of 22-12.
The Dragons looked to turn things around in their next match against Oregon State University. With a big spirited crowd, the emotion and adrenaline was certainly pumping.
Shoap started off the match in the 125-pound division. He wrestled in a tough match going back and forth with his opponent, Kegan Calkins. Shoap pulled out a tough 15-11 decision. In the 133-pound weight class, sophomore Anthony Canfora lost a tough match by way of a technical fall.
David Pearce wrestled in the 141-pound weight class. Pearce out matched his opponent, beating him with a 4-0 decision.
Cimato recorded a win in the 149-pound weight class by defeating his opponent with a pin. Sophomore Willie Davis, junior Austin Rose, Jarrell and DeCiantis each came away with decisions in their favor giving the spirit night crowd a lot to cheer for.
To round out the match, Murphy lost in the 197-pound division to a tough Corey Griego who is ranked No. 18. Goodhart retaliated by defeating his opponent in the 285-pound weight class by a close 5-4 decision.
The spirited crowd had a lot to cheer about as the Dragons took the victory from Oregon State with a final team score of 28-8. The Dragons will have just one match this weekend Jan. 29 as they take on American University at the Daskalakis Athletic Center.