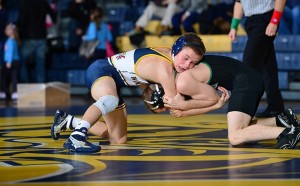 Many of us have friends at other schools who look forward to the shorter, colder and more colorful days of fall. They look forward to these days not because they enjoy the fall, in fact many probably hate the cold, but because football and basketball season come upon them.
Here at Drexel University there is no doubt basketball grabs the attention of most, if not all, students. There is no football season, so all we have is basketball right? That is completely and utterly incorrect.
Drexel students should be getting excited for a lot more than just their basketball team, because the wrestling team is going to make many turn their heads. There is a lot to be excited for with the team, as they are a great group of freshmen, sophomores, juniors and a few seniors that are looking to put together a great season.
The mat men are going to have to go through the season dealing with the loss of some of their top talents of last year in Brandon Palik and Austin Sommer. Both of these wrestlers not only were tough opponents, but also were leaders they had a winning attitude and knew what they needed to do in order to win their matches. Last year both seniors had great season, and not having them for this season will be tough to overcome. 
With sports, however, comes loss and teams, particularly college teams, lose top talent every season so they know how to deal with it. Thankfully for the Dragons, overcoming the losses of such talented wrestlers will not be so tough, especially with young guys like Kevin Devoy Jr. and Tanner Shoap, who have already wrestled in some important matches and faired very well.
Last season Palik lead the team with 20 wins, but right behind him was Devoy with 19. Devoy showed he would be able to replace Palik's roll, as not only dominant wrestler, but leader and role model. Devoy came off a huge season, and as a young sophomore there is no telling how good he can get. He has already started the year off with a bang, winning Nov. 1 at the National Wrestling Coaches Association All-Star Classic. 
Another guy to look out for this year is Noel Blanco, who accumulated 14 wins last season as a junior. He will be an important player this season, not only because of his skill, but because as a senior he will be a leader and respected figure in the locker room, who can wrestle and do all the little things as an example of how to be a good teammate and wrestler.
If these player rundowns can't get you excited for the season, then maybe standings from the East Stroudsburg University Open Wrestling Tournament will. During this competition six Dragons found themselves in the top five in their weight classes. Devoy finished in second place in the 133-pound weight class. He made it to the finals but would lose to Rutgers University's Anthony Giraldo 2-1. 
Red shirt sophomores, David Pearce (141 pounds) and Matthew Cimato (149 pounds), also came in second place in their respective divisions. Third place was shared in the 125-pound division by Drexel teammates, Zack Fuentes and Shoap. Lastly, freshman Joshua Murphy took fifth place in the 197-pound division. 
There is undoubtedly a lot to be excited about. If you are a Drexel Dragon fanatic then the wrestling team is the team to follow. They wrestle with heart and toughness. It is going to be an exciting season, which opens up with South Dakota State University at the Daskalakis Athletic Center Saturday, Nov. 22.