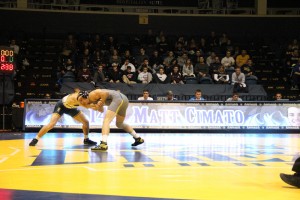 The Mat Men competed in the Pitt Duals Jan. 11, wrestling against both Bloomsburg University and the University of Pittsburgh. These were important matches for the Dragons because they came into the Pitt Duals with a record of 3-4. In order to get their record above .500 for the season they would need two wins. Although the Dragons have been traveling for most of their matches, they have been doing pretty well so far, wrestling hard and with good technique. Getting two wins in the Pitt Duals would not be a surprising feat, in fact it would be expected with the type of expectations the Dragons put on themselves for their matches.
The first match against Bloomsburg went exactly how the Dragons wanted it go.
To start the meet Tanner Shoap, at 125 pounds, stepped on the mat and received a technical fall against his opponent, immediately giving Drexel the lead. Following Shoap was 12th-ranked Kevin Devoy Jr. wrestling at 133 pounds. He was able to earn a 5-0 decision, which increased Drexel's lead to 8-0.
The Dragons would never relinquish their lead.
David Pearce and Mathew Cimato, wrestling at 141 and 149 pounds respectively, both won their matches by decision.
Noel Blanco followed these strong performances with a dominating performance of his own. Blanco recorded a major decision, winning 12-2 over his opponent. The Dragon's lead swelled to 18-0, but Kurt Meske of Bloomsburg put an end to the Drexel shutout winning a match against Nick Elmer in a 3-1 decision. The Dragons fought right back, however, with Connor Moran winning a close 8-6 decision against his opponent. In another hard fought match Alex DeCiantis won a 9-3 decision. Both matches were key because although Bloomberg had won just one match, one match is all that is needed to get a team back on track. Back-to-back wins virtually swept away any chance of a Bloomsburg comeback.
Bloomsburg took one more match by decision, but Alex Foley was able to end the match with a win over his opponent with a 2-0 decision. This was well-fought meet by the Dragons, clearly putting forth their best wrestling to win 27-6. This would also give the Dragons some motivation for their next meet, which would be on the same day, against the University of Pittsburgh.
Unfortunately the Pittsburgh meet did not start off as smoothly as the Bloomsburg match. Shoap again started off, in the 125-pound division. The results wouldn't keep up with the first match, as he lost 10-2 against Dom Forys. Next up to wrestle was Devoy, who at this point in the season had only recorded one loss. The 12th-ranked star dropped his second match of the year in a 4-2 decision. This meet against Pittsburgh started off completely opposite of how the Bloomsburg meet began.
Pittsburgh has three ranked wrestlers towards the end of their rotation so a strong start was incredibly important — nut the Dragons weren't done yet.
David Pearce earned a forfeit from his opponent in the 141-pound division, which put the score at 7-6, with Pittsburgh ahead. Cimato wrestled hard and won a 7-4 decision, which thrusted the Dragons into the lead at 9-7. Next up was Blanco, who capped off a three-peat performance, winning his match by a decision of 3-1 and putting the score at 12-7.
Unfortunately, the Dragons ran right into Pittsburgh's three ranked opponents. After Elmer's loss to Pittsburgh's Troy Reaghard, the Dragons were forced to face three straight ranked opponents. Moran, DeCiantis and Brandon Litten were matched against the No. 8, No. 2 and No. 14 ranked wrestlers in their respective weight classes. These were all tough matches, and all three Dragons wrestled hard, but eventually fell to their respective opponents. To end the match, Foley fell to John Rizzo in a 7-4 decision, and the overall score ended with Pittsburgh on top 27-12.
The Dragons came away with one win and one loss putting their record at 4-5, but the more important meets are coming up.
Three of the five meets left in January are conference meets, which are more significant. Head coach Matt Azevedo reiterated that fact, showing how important the upcoming matches are.
"Conference matches are more important and have more of a significance, we want to win those dual meets more."
The Dragons will definitely be motivated and will wrestle hard. There is no doubt that these matches will be exciting to wrestle in, and possibly more so to watch.
Drexel will be facing Lock Haven University of Pennsylvania in their final meet before facing two straight divisional foes. The meet will be held Jan. 16 in the Daskalakis Athletic Center. This will also be Drexel's last meet at home for the next seven, so there is no doubt they will excited to compete in front of their home crowd before going on a long road trip.