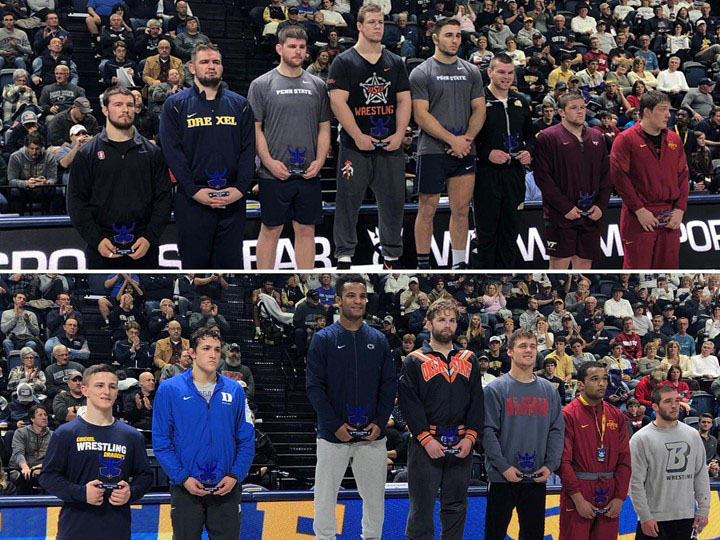 The Drexel University men's wrestling team attended three away tournaments throughout the holidays. The wrestling squad made the most of their shortened break, earning several important victories on the road.
Prior to the end of the term, the Dragons were hosts to the United States Military Academy at West Point, at the Daskalakis Athletic Center Dec. 7. While Drexel headed into the match up with confidence, they would walk away from the mats with only two wrestlers claiming victories, and a final scoreboard of 29-6. Despite the disparity in overall points, Drexel did not give them up easily, giving Army a tough go in each match.
Freshman Ty Smith earned the first win of the day over Army sophomore Lane Peters at 133 pounds, earning a 6-4 decision and leveling the overall score at 3-3. Drexel would go winless at the next seven weight classes until the heavyweights came on.
Redshirt senior Joey Goodhart, at 285 pounds and as possibly Drexel's most consistent performer this season, took the final match-up for the Dragons against Army freshman Ben Sullivan with a 4-2 decision. Army was Drexel's final dual meet of the year, as well as the last home meet. Following such a decisive score against them, the Drexel squad was determined to outperform expectations during their three tournament runs.
The Dragons' last appearance of came Dec. 22 at the 86th Annual Wilkes University Open, where the team managed to close the year out on a high note. Drexel's seven-man squad at the Wilkes Open was comprised mainly of underclassmen, and talent of the young unit shone through in freshman Michael O'Malley's win of the 174-pound title.
Freshman Dante Mininno earned a close 9-8 win over Wilkes freshman Nicholas Bauer at 125 pounds to start the Dragons off well in the lower weight classes, before suffering a 14-12 heartbreaker loss to Sacred Heart University sophomore Ryan Burns. Mininno's run came to an end after another hard-fought 8-6 loss to Wilkes sophomore Kyle Trout.
Two wrestlers competed at 149 pounds for Drexel, freshman Michael Martiniak and redshirt freshman Max Livingston. Martiniak's first bout came against Lehigh University sophomore Jimmy Hoffman, who received a technical fall win over the Drexel wrestler a little under five minutes into the match. Martiniak was outworked by Wilkes freshman Josh Brown 6-3 in the consolation rounds to finish his day on the mats.
Max Livingston used his 18-3 technical fall loss against Lehigh fifth year Cort Schuyler to fuel a dominant 16-0 technical fall win over Wilkes freshman Andrew Rivera. Livingston would drop out of the consolation rounds after a 12-3 decision loss at the hands of Bloomsburg University redshirt junior Grant Bond.
The squad's breakout star O'Malley began his victory campaign at 174 pounds with back-to-back pins of Wilkes freshman Brandon Belfonti and Franklin & Marshall College freshman Chris Bolletino. O'Malley was strong in the championship stages, taking a 16-4 decision over Sacred Heart sophomore Anthony Falbo, and clinching a 4-3 win over Alderson Broaddus University sophomore Gino Sita in the finals. The title win was especially impressive as O'Malley's collegiate debut.
After finishing 14th overall of the 34 teams competing at Wilkes, Drexel enjoyed a brief lay off before returning to competition on New Year's Day for the two-day-long Southern Scuffle, hosted by the University of Tennessee at Chattanooga. History was made as O'Malley capitalized on his impressive debut to become the first Drexel freshman ever to place at the tournament.
O'Malley went 1-1 in his first two matches to drop into the consolation bracket, proceeding to claim three wins in a row, two of which were pin victories at around the two-minute mark. O'Malley, at 174 pounds, fell to North Carolina State University freshman Trent Hidlay, but managed to defeat Binghamton University redshirt junior Vincent Deprez to take seventh place on the podium.
Senior Stephen Loiseau had a successful outing the first day of the Scuffle, but was unable to continue in his bracket following an injury sustained in his match against Virginia Polytechnic Institute and State University redshirt senior Tom Sleigh, who was ranked two spots below Loiseau in the national 197-pound rankings at 16.
Drexel's final performer, Goodhart at 285 pounds, was the top place winner for the Dragons. Goodhart went 2-1 on the first day of the tournament, only losing out to Nick Nevills, a senior at wrestling powerhouse Penn State University. Goodhart went 2-1 in his matches on the second day of the competition to arrive at the fifth place match up against Virginia Tech redshirt senior Billy Miller. Goodhart walked away with a huge upset victory over the then-nationally No. 8 ranked heavyweight Miller, methodically grinding his opponent out to a 4-3 win.
Drexel finished 17th out of the 24 competing teams at Chattanooga, returning to Philadelphia for their latest challenge at the Franklin & Marshall Open Jan. 5. Of the five wrestlers competing, three managed to secure top five spots. Sophomore Parker Kropman placed the highest of the group, winning five straight before falling in the finals at 149 pounds to University of Virginia redshirt sophomore Michael Murphy.
Sophomore Evan Barczak went 6-1 at 157 pounds, taking third place in the category for himself. Junior Ebed Jarrell was 5-2 in the 165-pound weight, and could have went higher, but was forced to withdraw from the tournament early. Drexel's efforts at Franklin & Marshall pushed them to an overall standing of 12th out of the 52 teams present.
The Dragons will travel to Lawrenceville, New Jersey, to face off against Rider University Jan. 11 in a non-league affair, hoping to register their first dual meet victory of the year.