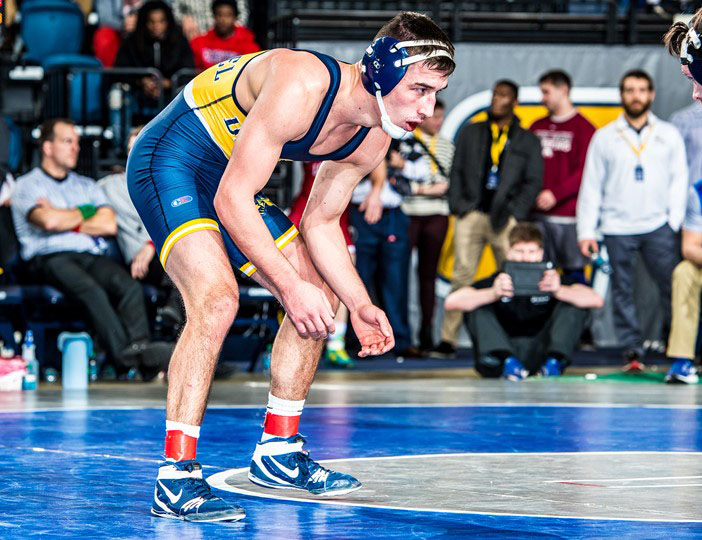 As the Drexel University men's wrestling team returned from a small break from competition, they got ready for the Southern Scuffle Jan. 1. It was held at McKenzie Arena in Chattanooga, Tennessee. This year's competition was momentous, as Drexel had never placed more than two people in the Southern Scuffle. This time around, seven Drexel wrestlers placed in the competition, with the team overall placing sixth.
Junior Stephen Loiseau, who competed in the 197-pound weight class, was the highlight of the group with a fourth place finish in the competition. He had back-to-back wins against nationally ranked wrestlers, No. 18 Jacob Seely of the University of North Colorado and No. 14 Matt Williams of the University of California Bakersfield. After these matches he faced No. 9 Anthony Cassar of Pennsylvania State University, who he sadly lost to 4-1.
Graduate student Garrett Hammond made his season debut at the Southern Scuffle, where he placed fifth. He had a tough road ahead of him, which included facing Duke University's Mitch Finesilver and No. 17 Coleman Hammond of the University of California Bakersfield in the 157-pound weight class. He did lose both of these matches, but scored a 20-14 win over Zach Davis of the United States Naval Academy to place fifth.
Austin DeSanto, the quickly rising freshman from Reading, Pennsylvania, competed in the 133-pound weight class. He was ahead in a match against No. 4 Jack Mueller of the University of Virginia, but had to leave due to an injury. As a result he forfeited the match, resulting in a sixth place finish.
In other competitions, red shirt freshman Felix Belga and red shirt senior Alex DeCiantis placed second and third, respectively, in the David H. Lehman Franklin & Marshall Open, held in Lancaster, Pennsylvania. Belga had four-straight wins over wrestlers from West Virginia University, Columbia University, Franklin & Marshall College and the United States Military Academy at West Point. However, in the championship match, he lost to another Army West Point wrestler, Nigel Ruiz, by fall.
DeCiantis wrestled in the 184-pound weight class, and had three-straight wins before getting to the semi-finals. This next match was a close bout against Cornell University's Jacob Taylor, but in the end, DeCiantis lost 7-5. However, this led him to the third-place match, where he won against Binghamton University's Brett Bastianelli 13-4.
The wrestling team competed against Keystone College and Franklin & Marshall Jan. 11 at the Daskalakis Athletic Center. They defeated Keystone 50-6.