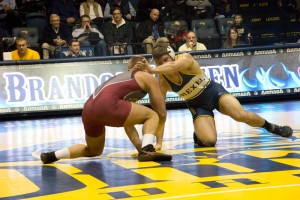 The Drexel University wrestling team was back in action when they took on Rider University and Franklin & Marshall College Jan. 6 and 7.
As the Dragons draw closer to championship play, head coach Matt Azevedo made the choice to rest some starters this past weekend. With a few key wrestlers out, the Dragons managed to defeat Franklin & Marshall, but lost to a very good Rider team. Resting starters is key, especially for a sport like wrestling, where performances are strictly individual. It allows guys to relax their bodies and regroup themselves. Even with some major starters, like Kevin Devoy Jr., out for both of these matches, the Dragons had replacements that were very effective, wrestling with great intensity.
The Dragons began the weekend wrestling against Rider. As a whole, Rider is a great team, who has suffered a few setbacks here and there, but their talent level is extremely high. Alex DeCiantis started off the match in the 184-pound weight class, he was able to give Drexel a quick lead after earning a technical fall against his opponent. In the 197-pound division, Brandon Litten, a redshirt freshman, wrestled well, taking his man all the way to overtime. Unfortunately, Litten lost a tough match in a 3-1 decision.
The team score after two matches was close, 5-3. Joey Goodhart expanded the Dragons lead to 8-3 by winning 4-3 decision, in another overtime match. Zack Fuentes, in the 125-pound division lost the next match in a tough fought 6-0 decision, and Franco Ferraina also lost his match in the 133-pound division by a 13-5 decision. The team score was now in Rider's favor at 10-8, but in the 141-pound division, David Pearce was able to win a 7-5 decision in overtime. Pearce fought as well as he has all season, proving to be a great wrestler no matter the opponent.
Matthew Cimato wrestled a tough match, but lost in the 149-pound division by a major decision of 14-4. Drexel and Rider both traded wins from here on. Noel Blanco beat his opponent in the 159-pound division, but Michael Paccione lost his match in the 165-pound division, ultimately sealing the deal for Rider. Stephen Loiseau did not go down without a fight even though the team was lost; in the last match of the night he won by way of a 4-3 decision.
The final score was 20-17, with Rider coming out on top. In a close meet like this it is hard to imagine the Dragons would have lost had they been at full strength, with every starter wrestling. Coach Azevedo, however, saw this weekend as an opportunity to rest his guys, and also get other guys ready for competition. He explained that, "We've got a couple of guys that can be [competition ready] but maybe not quite there yet, but we are hoping over the next several weeks we can get them where they need to be." Regular season matches are best used for wrestlers to get the ready for these competitions, which is why rest for some and action for others is important.
In the final meet of the weekend, Drexel took on Franklin & Marshall. The Dragons were able to dominate Franklin & Marshall, winning 30-6. Nick Elmer started off the meet winning in the 165-pound division, by a 10-6 decision. In the 174- and 184-pound matches, Loiseau and DeCiantis both beat their opponents, by way of a 5-3 decision and 19-7 major decision, in their respective matches.
Litten wrestled valiantly in the 197-pound division, bringing his match into overtime, but ultimately lost a 6-5 decision. From here on the Dragons went on a five-match win streak. In the 285-pound division, Goodhart won his match by a close 3-2 decision. Fuentes, in the 125-pound division, was able to record a major decision, winning his match with relative ease. Ferraina, a reserve, wrestled with great heart in the 133-pound division and won his match by a fall against his opponent.
Pearce at 141 pounds and Cimato at 149 pounds both put forth great performances winning their respective matches, 6-0 and 10-1. In the final match of the night, the redshirt freshman Ryan O'Connor lost his match in the 157-pound division. He wrestled hard but ultimately lost a 6-1 decision.
A win from this match brought Drexel's team record to 7-10, but more importantly, many regular starters were able to rest this weekend and others were able to get in the action to work on their wrestling technique. As Coach Azevedo has pointed out, the ultimate goal is to get wresters ready for championship matches.
The Dragons will host Hofstra University Feb. 13 for a much anticipated spirit night in the Daskalakis Athletic Center. The atmosphere for the match will be great and the wrestlers will definitely be feeding off it. On Sunday, Feb. 15 the Dragons will head to Ithaca, New York, to take on Cornell University.