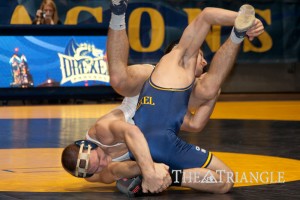 In sport, much like in the rest of life, success often comes down to peaking at the right time. For the Drexel wrestling team, the Colonial Athletic Association Championships March 3 in Binghamton, N.Y. present the perfect opportunity to bring a season's hard training to bear.
"We have had some great individual and team performances this year, but we've also had some disappointing performances as well," head coach  Matt Azevedo said. "I really hope we can pull it all together this weekend. We need 10 great performances if we expect to have the results we want."
And therein lies the rub. Despite the fact that Drexel's final season statistics make for disappointing reading (7-10, 2-4 CAA), wrestling is unique in the sports arena because it requires 10 individuals to deliver the goods on match day. And buried in a disappointing season, there have been some strong individual performances from the Blue and Gold.
"The greatest thing about the CAA Championship and every other conference tournament — this is where our wrestlers go to fight for a spot at the NCAA Tournament," Azevedo said. "This tournament is what we have been working for all season. As a wrestler you have two goals: win a conference championship and be an NCAA National Champion or All-American."
In Joseph Booth (165 pounds) and Frank Cimato (141 pounds), Drexel has two wrestlers who go into the CAA Championships as the top seeds in their respective weight classes. Senior heavyweight Kyle Frey is currently the second seed, while Austin Sommer (157 pounds) and Brandon Palik (197 pounds) round out a quintet of Drexel wrestlers who are in the top five of their respective weight classes headed into the championships. Azevedo reinforced the pride he has in the strong individual performances he has seen all season.
"We have several wrestlers to watch this weekend," he said. "Frank Cimato at 141 and Joe Booth 165 are both seeded No. 1 at their respective weight classes. At 285 Kyle Frey will be the No. 1 or No. 2 seed, and two others to watch are Brandon Palik 197 and Austin Sommer 157. These five guys all have very good chances to win the conference and qualify to the NCAA Tournament in St. Louis on March 15-17."
Aiding Drexel's cause in Binghamton will be the presence of seasoned veterans like Frey and fellow senior Alex Rinaldi (174 pounds) who will be looked upon to provide the spark for the Dragons.
"Our two seniors, Kyle and Alex, give us leadership in many ways," Azevedo said. "They always set a good example with their work ethic. They are well respected by the rest of the team. When these two guys have success on the mat, it definitely sends a spark through the rest of the team.
Hofstra University goes into the tournament as the favorite to clinch its 10th conference title in an 11-year span, which was only broken up in 2010 by a Binghamton victory.
Drexel will be hoping that its lackluster overall season has been but a prelude to a strong postseason showing at these championships.