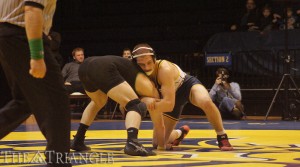 The Drexel wrestling team finally got the opportunity to wrestle in front of their home crowd at the Daskalakis Athletic Center Jan. 19, but dropped a 22-18 decision to Binghamton University. The Dragons were without their star 197-pounder, Brandon Palik, who was sidelined with a rib injury.
It did not take long for the mat men to get the crowd into the match. After freshman Tanner Shoap was defeated at 125 pounds, another freshman, Kevin Devoy, took the mat at 133 pounds. Devoy pinned his opponent in the first round to put the Dragons out in front early on and get the crowd riled up.
"I wasn't really going for the pin, I was going for points," Devoy explained after the match. "The second time I turned him, I actually saw that I was pretty close and he was really lackadaisical about getting off of his back. I went for it with under 20 seconds left and saw he was flat again. My coaches got into it saying, 'He's flat, he's flat,' so I just held him there and I got it."
"It was huge," Matt Azevedo, head coach, said. "We knew we needed bonus points, so for him to go out there and get six against a kid that he should get six against was great. It got the crowd going. It's always good to get those pins."
Earlier in the season, Devoy had wrestled in the lighter weight class, but after struggling to make weight and battling lethargy when he did, Azevedo made the decision to move his talented freshman up to his current spot at 133 pounds. Devoy has benefited greatly from the move thus far.
"I feel better out there," Devoy said about the switch. "I can go out there and actually wrestle. I'm not tired. I'm not waiting around to conserve my energy. I'm out there doing as much as I can."
Devoy was also excited to finally get a chance to wrestle at home, where he had a considerable cheering section in attendance. After the match, the Burlington, N.J., native made a quick line to his friends and family to share in the moment.
The Dragons also picked up a win from Noel Blanco at 149 pounds. The junior from El Monte, Calif., is quietly putting together a solid season for Azevedo's club. In Drexel's previous event, the prestigious Southern Scuffle, Blanco was one of only two Dragons to advance to day two of competition.
"He did a great job," Azevedo said of his energetic junior. "The thing he's doing right now is he's getting the wins."
Facing a deficit heading into the second half of the match, Drexel needed to find a spark. They found just that, beginning with the 165-pound weight class. Jason Fugiel earned the decision, and then Kevin Matyas earned one as well at 174 pounds. Alex DeCiantis finished off the Dragons' third match win in a row with an exciting takedown in extra time to come away with the two-point victory.
The Blue and Gold headed into the 197-pound match with an 18-11 lead. It was Coleman DeLude who drew the assignment to fill the void left by the injured Palik. Not only did he have big shoes to fill for his own team, but he was going up against a Binghamton wrestler in Cody Reed who was coming off of a win over a ranked opponent. DeLude dropped the match in a technical fall, which put Binghamton right back in the match, down only 18-16 with one weight class to go.
After the match, Azevedo acknowledged that DeLude was in a tough situation, taking such a tough match on short notice after Bryan Sternlieb, Palik's original replacement, was ruled unable to go with a skin infection.
"I've got to give credit to him for going out there and wrestling," Azevedo said. "He didn't know he was wrestling until last night. He's actually a 174-pounder who we bumped up, and he went out there and did the best he could."
The Dragons' day ended when heavyweight Joe Giorgio was pinned, giving Binghamton six points and the 22-18 win. Palik's absence loomed large over the team. If he had been healthy enough to wrestle, then he more than likely would have won his match, which would have given Drexel an insurmountable lead and a team win on the day.
"Without him, it hurts," Devoy said. "We look upon all of our other teammates to get bonus [points] when we can. We have got to win the close matches. That's a six-point swing if we do that."
"We knew if we didn't have a larger lead heading into those two matches, it was going to be tough to win the dual meet," Azevedo said of the 197 and heavyweight weight classes. "With Palik in there, we win the dual. He's not in there and that's the difference. But we still should have won the match. We lost a couple of matches that we shouldn't have."
With the loss, the Dragons have dropped to 0-2 in the Eastern Intercollegiate Wrestling Association. They will have two conference matches coming up in the next week as they travel to Hofstra University Jan. 24 and return to the DAC Jan. 26 to take on the United States Military Academy.