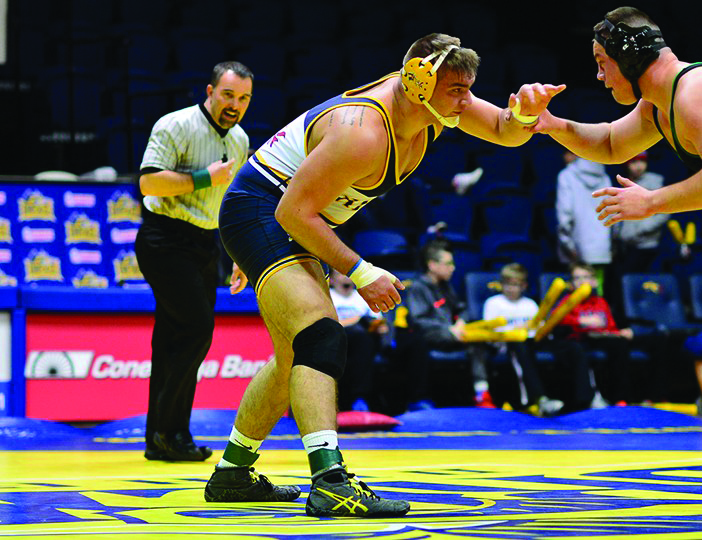 The Drexel University wrestling team took part in two matchups this past weekend. The Dragons, who are currently ranked No. 25, went up against No. 7 Cornell University Jan. 13 and No. 17 Stanford University Jan 15.
The Dragons began their tough weekend in Ithaca, New York, where they took on Cornell. Junior Tanner Shoap began the day for Drexel in the 125-pound division. Shoap had a very good match, which ended in a technical fall in Shoap's favor.
In the 133-pound weight class, freshman Brendon Hasson took to the mat against No. 19 Mark Grey. Grey recorded a win by fall against Hasson, taking back any lost momentum.
In the 141-pound weight division, freshman Vincent Foggia lost to his opponent in an 11-2 majority decision. No. 18 senior Matthew Cimato took back some momentum for Drexel when he beat Jonathan Furnas in an 8-0 majority decision, in the 149 weight division.
Sophomore Willie Davis competed in the 157-pound weight division but lost to Cornell's Taylor Simaz in a 14-4 majority decision.
Junior Austin Rose wrestled in the 165-pound weight class against No. 4 Dylan Palacio. Rose wrestled tough but lost to Palacio in a 12-2 majority decision.
Freshman Ebed Jarrell took back some momentum with a big win over his No. 19-ranked opponent. Jarrell wrestled in the 174-pound weight class and won his match with a 13-8 decision.
In the 184-pound weight division, freshman Owen Brooks had a tough task as he had to go up against an opponent ranked No. 4. He wrestled hard but lost by way of a fall.
Juniors Joshua Murphy and Joey Goodhart both rounded out the day in their respective 197-pound and 285-pound weight classes. Both wrestlers won, but unfortunately it was not enough for Drexel to beat Cornell. The Dragons lost by a final score of 25-18.
The last match of the weekend was back at home in the Daskalakis Athletic Center against No. 17 Stanford. The match started with the 165-pound weight class, where Austin Rose faced No. 18 Keaton Subjeck. Rose battled, but ultimately it was Subjeck who came away with a 3-2 decision.
Ebed Jarrell wrestled in the next match, which was the 174-pound weight division. Jerrell also lost after battling through a tough match. The end decision was 11-6.
Junior Alex DeCiantis brought Drexel back into the picture with a big win in the 184-pound weight division. DeCiantis won his match on a 10-3 decision.
In the upper weight classes both Joshua Murphy and Joey Goodhart fought with heart. Murphy wrestled against No. 20 Josh Marchok and lost in a tie breaker. Goodhart also found himself in a tie breaker against his opponent, but he was able to win the 285-pound match.
Following the heavyweight bout, the matches went back down to the lower echelon of weight classes. Tanner Shoap lost his matchup in the 125-pound division. It was a tough match, but Shoap ultimately fell by a 9-5 decision. In the 133-pound division, Brendan Hasson lost his match by fall and in the 141-pound division Vincent Foggia lost to his opponent by way of a technical fall.
Matthew Cimato picked up points for Drexel by recording a 5-0 decision over his opponent. Unfortunately, Willie Davis was unable to establish a winning streak as he fell to his opponent by way of an 11-2 majority.
The Dragons lost to Stanford 25-9, but there was certainly a winning experience for many wrestlers. Drexel will have another double header  as they will travel to Binghamton, New York, to take on Binghamton University Jan. 20, before returning to the Daskalakis Athletic Center Jan. 21. That matchup against Oregon State University will also be Spirit Night.Hopefully the energy of the spirited crowd can help the Mat Men earn a victory.