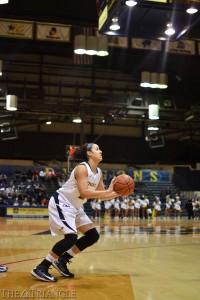 Drexel Athletics named women's basketball forward Taylor Wootton one of the CLEAR Athletes of the Week for the week of Jan. 21. The announcement came following two big games from Wootton against Colonial Athletic Association rivals Hofstra University and The College of William & Mary.

Wootton, who shares the honors with men's guard Frantz Massenat, recorded back-to-back 20-plus-point scoring efforts in the Dragons' latest wins. The two games each accounted for career highs, as she scored 24 and 22 points in the games, respectively, topping her previous personal high of 20 points from last season.

This was Wootton's first time being recognized as a CLEAR Athlete of the Week; it's an award that, while it surprised her, also made her feel rewarded.

"It was definitely a good feeling; I had never gotten that award before," Wootton said. "So it was just really surprising to me."

Her scoring surge came at quite the opportune time for the Dragons. In the Jan. 17 game, Drexel was trailing by 15 points at halftime. Wootton led the comeback, dropping 15 points in the second half alone, including six straight to open the half, getting things rolling for the Dragons.

"We had to step up because we struggled in the first half, not only me," Wootton said. "All my teammates stepped up, and they gave us open shots and we made them."

Following the 59-53 win against Hofstra, Wootton took more than just her hot shooting on the road with her to William & Mary. The forward followed up her 24-point effort with 22 more points but also chipped in six steals, a high mark for any Dragon this season. Her scoring and defense keyed the 58-46 road victory.

Shooting more has been something Wootton's coaches have been pushing for her to do lately. Wootton attempted 37 shots in the two games combined, and before then she had not attempted more than 10 in any single game. She has rewarded her coaches and showed they had good reason for wanting her to shoot more.

"My coaches always tell me, 'Shoot the ball,' and I got open shots, and the ball just went in," she said.

The 46 points allowed were tied for the least amount allowed by Drexel to a CAA opponent this year. The defensive aspect of her big game is what makes Wootton prouder.

"Probably the steals [more than the points]," she said. "I take pride in my defense, so I think defense is the No. 1 thing."

The defense of the Dragons has been effective since the CAA schedule began. Drexel has raced out to a 5-0 conference record, and in those five games they have held their CAA opponents to only 50 points per game.

They continue to try and build on the progress they made in the conference last year when they played in the championship game. This time the players look to get over the hump.

"I think we just want to get back to where we were last year, a conference tournament championship," Wootton said.

They seem to be on the right track, and everything is starting to click at once, but Wootton said just a few minor things need to be adjusted for them to really be firing on all cylinders.

"I think we're close, but there's still a lot of things we need to work on," she said.