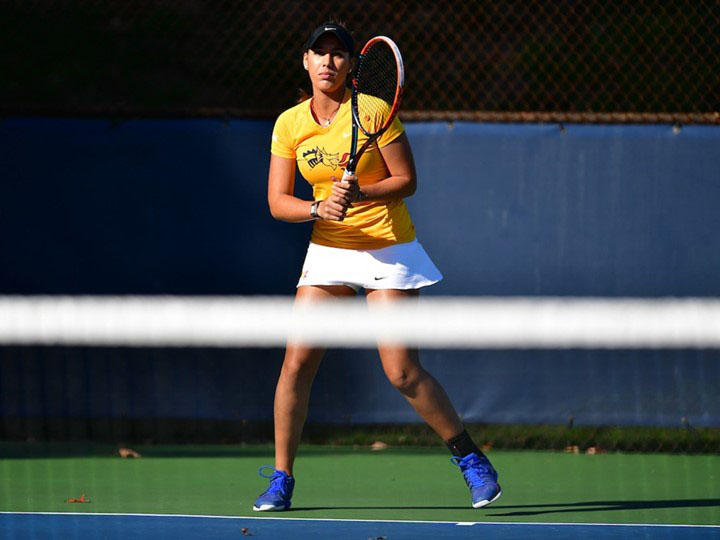 The Drexel University women's tennis team won over Fordham University Feb. 28 at the Hecht & Hamlin Tennis Center. Impressive performances across the line-up saw the team clinch victory before the doubles even started, winning 5-1 in singles matches. The win marks a five-win streak for the Dragons.
Playing at No. 1, Kendra Bunch continued her success streak for Drexel with a powerful 6-4, 6-2 win over Carina Ma to set the team in the right direction. Despite dropping the second set in a close tiebreaker, No. 2 Ghita Benhadi took the win over Tatiana Grigoryan, 6-4, 6-7(5), 6-4.
In the third ladder position, Salma Ziouti defeated Estelle Wong in style. Ziouti bounced back from faltering in the second set to convincingly take the win for the Dragons without dropping a game in the final set, 6-3, 4-6, 6-0.
Despite pulling back the second set, Clary Rodriguez Cruz dropped the last set in the tiebreaker against Maia Balce at No. 4, 6-3, 4-6, 6-0. This didn't keep the team down, and they sprung back into action to finish strong.
Recently back from injury, Mya Fuentes took her position back at No. 5 this week. Not holding back on her enormous serve, Fuentes made light work of tough opponent, Gianna Insogma, 6-4, 6-2.
At No. 6, Anisiya Simpson didn't waste any time taking the win from Carolina Sa, 6-4, 6-2. Simpson has hit her junior season at pace, sporting an impressive 8-1 record so far.
The Dragons are off to a successful start of their competitive season, and look to improve on their 8-1 record as they head into their mid-season on the path to the Colonial Athletic Association Championships.
Next on the schedule, the team heads to Florida for their spring training trip and will face the University of Connecticut March 11 and Colgate University March 12. Students can follow their season progress on www.DrexelDragons.com.