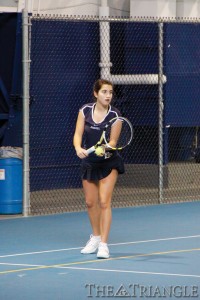 Drexel sophomore Zeynep Mafa prepares to serve the ball at the Drexel Armory during a 2-5 home loss against George Washington University Feb. 12. Mafa fell 6-0, 6-3 in the No. 2 singles match as the Dragons would go on to end their three-match homestand.
At this time last year, the Drexel University women's tennis team was recovering from a heartbreaking 4-3 loss to the Towson University Tigers. This time around, the Dragons showed no mercy to the Tigers, winning all nine matches en route to an impressive 7-0 shutout at the Drexel Armory March 10.
The ladies avenged last year's loss with a solid team victory against a strong opponent and got off to a scorching start in all-important conference play.
Winners of four of their last five matches overall, the Drexel women are hitting their stride at the perfect time with the season winding down and the Colonial Athletic Association Championships rapidly approaching. Assistant coach Filip Kricka acknowledged his team's high level of play of late and is excited to see what the rest of the season brings.
"The final score is not a testament of Towson's quality but our improvement from last year," Kricka explained. "Our main goal now is to build on the confidence gained from this win and continue improving with our eyes on the CAA Tournament, which is in a month."
The Dragons began the day on fire once again, sweeping the doubles matches and gaining an early lead in the team competition. This team has not lost a doubles team point in over a month now, a testament to its hard work and smart play to this point in the season.
Each of Drexel's doubles pairs played with very high energy and maintained focus throughout, a necessity due to the fast pace of doubles action. Senior Sonja Stosic and sophomore Zeynep Mafa led Drexel from the start with an aggressive style and careful net play, which propelled them to an 8-1 victory. The duo of senior Elise Leizerovich and sophomore Marcela Rosales then locked down the team point with an 8-5 win at No. 2. The team of junior Emma Brook and freshman Nicole Pivonka then capped off the doubles competition, winning at the No. 3 spot by a score of 8-4.
Drexel fared similarly in singles action, defeating Towson in all six matches. The ladies are in good shape right now and continue to ride a wave of confidence, which gave them an edge against the Tigers.
The match of the day was at the No. 2 spot, where Mafa battled her opponent for over two hours before coming out on top, 4-6, 6-1, 7-5. This match was full of exciting points, which compelled the crowd at the Armory to get involved. It was both a physical and mental fight, as Mafa had to come from behind twice after the first set, including erasing a 0-3 deficit in the third. At the No. 1 position, Stosic overwhelmed her opponent on her way to a 6-1, 6-0 rout.
"Stosic came out firing on Saturday," Kricka described. "She gained an early advantage and never really allowed her opponent to find her rhythm with dominant and aggressive play from the baseline."
In another one of the more intense matches of the day, Pivonka split the first two sets at No. 6, before rallying in a super tiebreaker to win 6-4, 4-6, 10-4.
Next up for the ladies is another conference match March 17 at the Armory, this time against the Hofstra University Pride. Last year the Dragons defeated the Pride 4-3, so another close and exciting match can be expected this year.
"We are very confident after this weekend, and we plan to use every ounce of it against Hofstra," Kricka remarked. "We made a statement to other conference teams with a shutout against Towson, and it is my hope we will be able to confirm and strengthen that statement after this weekend."
Conference matches are extremely important because they have significant implications for the CAA Tournament in April. High seeds are strongly sought after, as a high seed means favorable matchups early in the tournament.
The Drexel men's tennis team also returns to the courts March 17 with a home conference match against Hofstra. The Dragons had a week off from competition since their last match, which gave them a mental break and allowed them to practice for a full two weeks.
Just like the women, the men value conference matches because they know it will help them get a good early-round draw in the CAA Tournament. Look for the Dragons to come out refreshed, playing hard and hungry for a win.