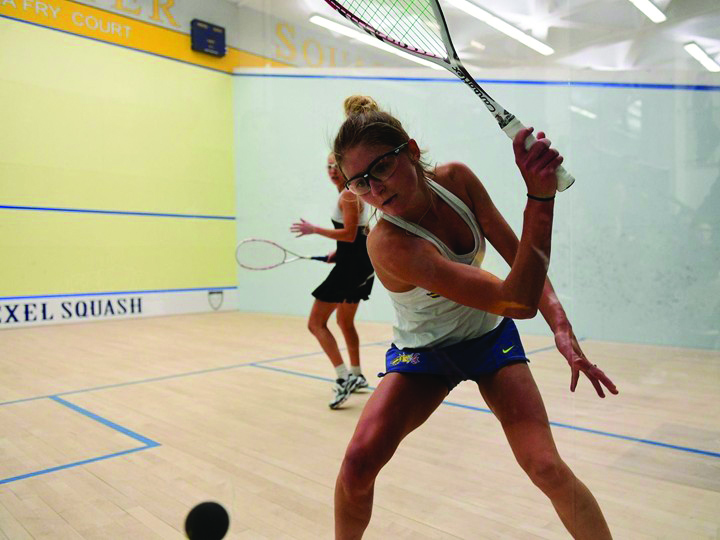 The Drexel University women's squash team went 2-1 at the 2017 Kurtz Cup in Princeton, New Jersey Feb. 24 through Feb. 26.
Head coach John White talked about the importance of the team's focus in being successful over the weekend.
"Their mental strength, sticking to their own game plan and not getting too frustrated were their biggest strengths during the weekend matches. They stayed focused from the very first point till the match was over. This is what got them the wins against two top teams, No. 11 Williams and No. 10 Brown, in the first 2 days."
On Friday, Feb. 24, the women defeated the Williams College Ephs by a final of 5-4.
Juniors Hayley Hughes and Ryan Morgan and sophomore Fiona Power swept their opponents in the first, second and third spots.
The first position match decided the competition. The Dragons and the Ephs were tied at four when Hughes got the individual and team victory.
Freshman Anna Hughes and senior Mary Fung-A-Fat registered the other two wins for the Dragons.
The Dragons earned their second victory of the weekend against Brown University by a score of 5-4.
Morgan and Anna Hughes swept their opponents. Hayley Hughes and Fung-A-Fat defeated their opponents in four games, while Power fought for her victory in five games.
The Dragons moved onto the finals of the Kurtz Cup and faced off against Dartmouth University on Feb. 26.
Drexel suffered a tough loss to Dartmouth in the Kurtz Cup Finals, falling by a close count of 5-4.
Hayley Hughes, Anna Hughes, Ryan Morgan, and Fiona Power got the four wins for the Dragons.
"This weekend was the best weekend by far. To come out and play the way they did, after a very bumpy season and seeing their ranking drop as low as No. 16, was great to see and a wonderful achievement for the girls. I could not have asked for a better finish to the season," coach White said.
The team will now prepare for individual championships, which will take place in Hanover, New Hampshire, March 3 through March 5.