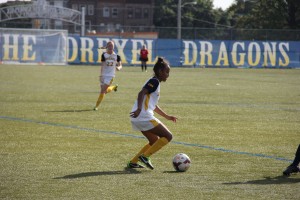 The Drexel women's soccer team is officially rolling.
They earned two conference wins against the College of Charleston and the University of North Carolina Wilmington, extending their winning streak to four games and improving their record to 2-0 in the conference.
"The team is feeling pretty good after starting off conference play with two wins. The shutouts emphasize the importance of defense. You won't lose a game if you don't get scored on, but we also understand that you won't win if you don't score," head coach Ray Goon said.
In the victory over the College of Charleston, junior Lauren Stollar scored the only goal of the game to secure a win for Drexel.
Stollar scored in the 34th minute of game when she delivered a corner kick into the box toward Madison Dunn. Dunn shot but her attempt was saved by Cougar goalkeeper Lauren Killian. Sam Greenfield received the rebound off the save and passed the ball to Stollar to set up a play, giving Stollar her third goal on the season.
Later in the game, Drexel's defense came through when Charleston had an opportunity to get on the board and tie the game. With just about six minutes left in the game, Drexel fouled, giving the Cougars a dangerous-looking free kick. Charleston's Nicole Koretsky kicked the ball towards the net but a barrier of Drexel defenders blocked it. As time expired, the Dragons were able to hold on to their one goal lead and win the game.
In her third straight shutout, Drexel keeper Kelsie Fye had five saves. Overall, the Dragons had 23 shots while the Cougars had 11.
Just two days later the Dragons secured another conference victory over the UNCW Seahawks.
Both teams displayed a strong defense in the first half with the game remaining scoreless until the later part, even though UNCW recorded seven shots and Drexel recorded six in the first half.
The only goal of the game came in the 78th minute when Alyssa Findlay passed the ball to Melissa Chapman inside the box. Chapman then headed the ball into the left side of the net. The goal was Chapman's second of the season.
The Seahawks outshot the Dragons 14-9. Fye had six saves and has now not been scored on for 439 minutes.
As for moving forward, Goon said that the team will be working on different formations, tactics, and situations.
"What we are really focusing on is being aware of what is needed on this particular day [or game] and executing it to the best of our abilities."
Regarding preparation for the upcoming game against the rival University of Delaware, he stated, "It's conference time and it's Delaware … so I won't have to worry about motivation."
The team will continue interconference play Oct. 4 at Vidas Field at 1 p.m., when they host Delaware and look for their third straight conference win.