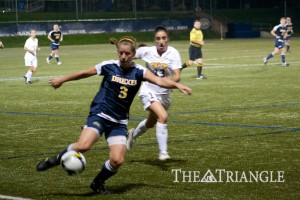 Following a record-setting fall season, Drexel's women's soccer program (6-8-5 overall, 4-4-3 conference) is going into its spring session with a sense of purpose that was reflected in its choice of opponents.
As announced March 30,, the Dragons' spring schedule features matches against seven sides; four of whom made it into their respective conference tournaments during the fall season and one that made it as far as the NCAA Tournament. Combining for a record of 70 wins, 42 losses and 14 draws, the teams provide an invaluable test for a young Drexel side.
First up for head coach Ray Goon's side is a trip to La Salle University for an early-evening doubleheader against Philadelphia University (16-3-2 overall, 12-0 Central Atlantic Collegiate Conference) and La Salle (15-2-3 overall, 7-0-2 Atlantic 10 Conference). In La Salle, Drexel will face a side that made it all the way into the first round of the NCAA Tournament before falling to the nationally ranked University of Maryland 5-1.
PhillyU will provide Goon's side with a different test, as its fall season ended on a disappointing note with a loss to Holy Family University in the conference finals of the CACC. The matches will be played April 10, with kickoff scheduled for 7:30 p.m.
The Dragons continue their spring preparation with a match against traditional powerhouse Rutgers University (8-8-3 overall, 3-5-3 Big East conference) April 13 in New Brunswick, N.J. The Scarlet Knights finished their fall season on a disappointing note with a narrow one-goal loss to Providence College in the Big East Tournament.
Drexel returns to the Vidas Athletic Complex to take on cross-city rival St. Joseph's University (7-7-5 overall, 2-4-3 Atlantic 10 conference) April 17 in a game that throws up interesting possibilities as Drexel is unbeaten at home this year ( five wins and three draws) but has historically struggled against the Hawks. In the previous six meetings between the two sides, Drexel has yet to come away with a win. The 7 p.m. kickoff will provide them with another opportunity to amend that.
Drexel's next games see them take to the road again this time against Princeton (6-10-1 overall, 2-5-0 Ivy League) and Monmouth University (11-8-0 overall, 7-3-0 Northeast Conference). The Hawks made it to the Northeast Conference Tournament before losing out in double overtime to Long Island University-Brooklyn. Kickoff is set for 9 a.m. April 21.
Coach Goon's side then closes out its 2011-12 season with a home match against city rival Villanova (8-9-2 overall, 4-7-0 conference) April 25 at 7 p.m. The match holds special significance, as it will be the first time that the two programs will play each other.
With the spring season serving for the most part as an opportunity to lay the groundwork for the more competitive fall season, it offers a unique opportunity to watch the continued development of a young Drexel side as well as a chance to see one or two players try to stake a claim for a starting berth come the fall.
And on the basis of such a strong lineup of opponents, one would be hard-pressed to find a reason not to watch.