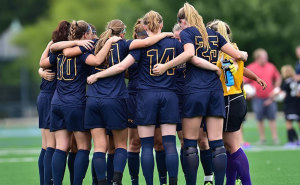 And so it ends.
The Drexel women's soccer team fell Nov. 2 to the College of William & Mary in the Colonial Athletic Association quarterfinals. The loss brought the Dragons' 2014 season to a close. The team finished the season with a 7-9-3 record overall and 4-3-2 in conference matchups.
The Dragons took the lead early with a goal in the 12th minute of the game. Madison Dunn scored the goal, giving her three on the season. Dunn challenged a clearance attempt by the Tribe and then quickly shot the ball into the lower left side of the net.
Drexel was able to maintain the 1-0 lead for most of the first half, but William & Mary was able to tie the game up right before halftime. The Tribe's Leci Irvin headed the ball into the net for the score. The score was tied 1-1 going into halftime.
William & Mary scored the winning goal of the game in the 67th minute of regulation. The Tribe's Nicole Baxter passed the ball to Emory Camper, who then sent the ball into the back of the net to gain a 2-1 lead. Despite a strong attempt, the Dragons could not score to overcome the deficit before time expired.
Dragon keeper Kelsie Fye had five saves in the game, an impressive end to her impressive season. The Drexel defense also recorded a save when Abbey Romano stepped behind Fye, who was pulled from the net, and denied a shot. William & Mary's keeper Caroline Casey also recorded five saves in the game. Overall, William & Mary outshot Drexel, 16-8.
William & Mary moves on in the CAA playoffs to face off against the No. 1-seeded Northeastern University Huskies in the semifinals Nov. 7.
This season the Dragons scored 20 goals and recorded 18 assists, while allowing 23 goals. Seniors Melissa Chapman and Megan Hammaker both scored five goals throughout the season, with junior Lauren Stollar close behind, having four goals on the season. The team scored an average of 1.05 goals per game and allowed an average of 1.21 goals.
Junior goalkeeper Fye had an outstanding season this year. She only allowed an average of 1.14 goals per game. In addition, she had a record-breaking season, passing Kaitlin Bond for consecutive minutes without allowing a goal. The previous record, held by Bond, was for 505 minutes. Fye extended the program record to 639 minutes of play without being scored upon. Fye helped Drexel to finish the season with six shutouts.
The team is prepared to work hard and improve during the offseason. They hope to build upon their strengths and face their challenges and weaknesses to reach the CAA playoffs and a conference title next season.