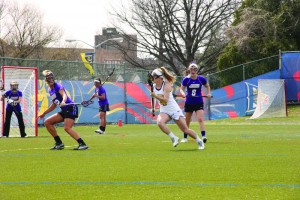 The Drexel University women's lacrosse team defeated the Elon University Phoenix April 19, 10-7, for the team's first Colonial Athletic Association victory of the season. The win snapped the Dragons' four-game losing streak.
The team was able to overcome the struggles they had been facing in the recent conference matchups by creating opportunities and capitalizing on them.
"We controlled the possessions really well," head coach Hannah Rudloff said. "We got over 50 percent of the draw controls. That allowed us to maintain possession and be patient on our offensive sets.
"We put in early goals against the Elon goalkeeper, who is very strong. That was the key to the game. That allowed us to continue to control the tempo of the game."
Elon scored first, only 53 seconds into the contest, to take a 1-0 lead. However, the Dragons responded quickly and impressively with three unanswered goals. Nadia Pelham-Lacey netted two of the three scores, while Caroline Thiele contributed the third.
The Phoenix fought back and tied the game with a pair of goals before Drexel regained the lead, scoring another three consecutive markers. Goals were scored by Thiele, her second of the game, Alisssa Watts and Lacey Aghazarian. The Dragons took the 6-3 lead going into the break.
Within minutes after starting the second half, Elon found two goals and managed to cut the Dragons' lead to just one, 6-5. Emily Duffey responded for Drexel, but her goal was answered by a score from the Phoenix.
With just over 20 minutes remaining in the game, Duffey got her second score of the game to give the Dragons a two-goal lead. But once again, Elon bounced right back with a goal of its own, making the score 8-7 with just under 13 minutes to play.
In the last five minutes, Pelham-Lacey scored her third goal of the day. It marked the redshirt freshman's second hat trick in three games and her 15th goal of the season. Aghazarian added to the Dragons' lead to the seal the win with just under three minutes to go.
Pelham-Lacey and Thiele both had impressive showings April 19 and contributed significantly to the win for Drexel.
"The trend continued from last weekend of having the younger players step up with Nadia Pelham-Lacey and Caroline Thiele," Rudloff said. "Caroline has only had about five shots all year and she scored two goals in this game, and Nadia continued her streak. They did a great job on the crease."
The Dragons will close out their season when they travel to Hofstra University to take on the Pride Saturday, April 25 at 1 p.m.
"Hofstra is at the top of our conference and they have a very strong goalie," Rudloff said of the Pride. "We have to come in and do the same thing we did this weekend. Go on the road, put in our shots early and control the tempo of the game. It's hard to adjust sometimes to the style and pace when we travel to Long Island, but we need to adjust and play our game."