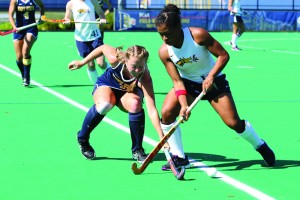 Fall term at Drexel is just around the corner, which means the field hockey season will shortly follow.
In 2014, the Dragons finished with a record of 10-8. In conference play, they finished with a 2-4 record. This is something the Dragons will be looking to improve this season. Conference games are extremely important in terms of finding postseason success.
In the Colonial Athletic Association's preseason field hockey coaches poll, the Lady Dragons were picked by the league's coaches to finish fifth in the conference.
Fifth will not be good enough for these Dragons, there is no doubt they will be gunning for a first place finish, so to guarantee a spot in the post season. In order to do this, the Dragons will need to rely on both their youth and their experienced players.
Last season the Drexel defense was anchored by Jantien Gunter, a great goalkeeper who racked up five shutouts, a 1.28 goals against average, and a .795 save percentage. In some games, Gunter was the sole reason the Dragons won, and throughout the season she was the reason they had such a formidable defense.
Now that Gunter is gone, the Dragons will have to rely on a new anchor for their defense. One option is freshman goalkeeper Erin Gilchrist. Gilchrist is currently playing internationally, representing her homeland of Scotland, in the U18 EuroHockey Championships.
It's impressive for Gilchrist to be a part of the team, and should bode well for Drexel that she will be coming into the season after playing in live game situations, and with playing experience in pressure situations.
A freshman goalie like Gilchrist, even if she is extremely skilled, is going to need an offense to take the pressure off.
Last season the Dragons were inconsistent with their offense. They had games where they could score six goals, then in the very next games, score no goals. In five of their eight losses, the Dragons scored zero goals. In the other three losses, they scored just one.
This season, the Dragons will need to be more consistent and figure out how they can score and take the pressure off of their freshman goalie. When they score, they win. But the offense needs to find a way to consistently produce against quality opponents.
Important in that process will be junior Jessica McCarthy and senior Jenna Knouse, who were both named to the 2015 All-CAA Preseason Team.
McCarthy is coming into the season as one of the team's top point-getters from last season. With Rachel Sumfest and Christina Conrad graduated, McCarthy will be expected to improve upon her career-high 11 points last season and lead the Dragons' offense going forward.
Knouse was an important contributor to the Dragon backline last season. Her senior leadership and backline skills will be much needed for the upcoming year.
Lauren Hibshman, a senior, was an honorable mention to the preseason all-conference team. She also played great backline defense for the Dragons, and could play midfield as well. She will be another important contributor this year, bringing experience into the fold.
Drexel students should be excited for this upcoming season. Last season did not go as the Dragons might have hoped, but this season they can right that wrong.
To gain entry into the post season this year the Dragons must play well against conference foes. With an incoming goalkeeper with a plethora of skills, and important returning players, it will be interesting to see how they fare.