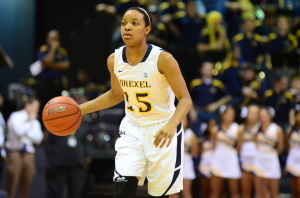 To start their 2014 campaign, the Drexel University women's basketball team will host Cornell University, a team that was decimated by graduations coming into the season, at the Daskalakis Athletic Center.
Their top four scorers from last season graduated, leaving the Big Red in an uncertain state. They aren't sure where their points will come from, and that's a huge advantage for the Dragons, who have a nice mix of experience and youth on the defensive end to stop the retooled Cornell team.
While "retooled" is a nice word for it, what the Big Red really are is inexperienced. Coming into the season, only three players on the Cornell roster have more than a year of experience, so the learning curve for the team is bound to be massive.
Last year, Cornell finished 14-14 overall and finished fifth in the Ivy League. With the loss of such key seniors, including top scorer Allyson DiMagno and sharpshooter Shelby Lyman, the Big Red could very possibly be a bad team this season.
The Dragons, on the other hand, graduated only three seniors from last season: Abby Redick, Tory Thierolf and Fiona Flanagan.
While those were absolutely important players to the team, the Dragons do have some of their most important pieces from last season.
Last season, the Dragons finished 15-16, but a respectable fourth in the conference, as they managed to pull off a 9-7 conference record. While not a huge success, the young Dragons of last year got valuable experience and will look to transfer that to this season, one in which they're poised to make an impact.
Specifically, junior Rachel Pearson is going to be an impact player. She led the team in points per game during her sophomore season and she possesses a powerful mix of handles, driving ability and three-point shooting that make her nearly impossible to guard.
Expect her to carry the young team this season and repeat her performance as the best scorer on the team as this season goes on.
In the season opener, she'll be especially problematic for the Big Red. With the graduation of three senior guards and two senior forwards, it will be up to younger players to stop Pearson's rampage, specifically in the paint. With only one forward with over a year of experience, it's going to be exceptionally tough to stop Pearson when she gets moving towards the basket, and overcompensating will allow her to find open teammates for easy points.
The key player to watch for Cornell in the opener is Kerri Moran. The team's fifth highest scorer last season, scoring an average of 6.4 points per game in 27.3 minutes per game, Moran will be expected to step up to compensate for the loss of almost the entire Big Red offensive unit.
Last season, Moran showed her ability to create in somewhat limited action, as she tallied 97 assists in only 28 games, a number that led the team by far and gave her an average of 3.46 per game. While that's great, she also turned the ball over 81 times last season, a tally of 2.89 per game.
That's a big mark, and probably will be a problem for the Big Red against a stingy Dragons defensive unit that held opponents to under 50 points many times last year.
With another year of experience under their belt, the Dragons could be a real force on both ends and be a matchup nightmare for opponents throughout the season and will likely eclipse their paltry 15-16 record from last season and make an impact in the Colonial Athletic Association title race.
That race doesn't quite begin against Cornell, but getting the season off on the right foot is an important factor in the continuing growth of this young team going forward.
The Dragons host Cornell Nov. 16 at 2 p.m. and will look to start their journey to contender status in a big way.