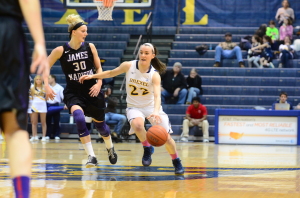 As we progress further in to November, fall sports are ending and the holiday season is fast approaching. Only one thing is on Dragon sports fans' minds as we enter the winter sports season: basketball.
After a less than thrilling season in 2013-2014 with a closing record of 15 wins and 16 losses, the women's basketball team will be looking to improve their record and make a superior run in both Colonial Athletic Association play and their out-of-league schedule — since their loss to James Madison University in the CAA playoffs last season, they have been ardently preparing to restate themselves as a dominant force in the conference and nationwide. With any luck, they will make a run similar to their 2012-2013 season, making a good run in the CAA playoffs, and returning to the Women's National Invitation Tournament to compete for another championship.
As women's basketball kicks off the 2014-2015 season, the team will look significantly different than last year's. While 10 players return to the team this year and head coach Denise Dillon will be entering her 12th year with the Dragons, there are some major changes to be made on the court. Last year, the Dragons graduated three seniors, Fiona Flanagan, Abby Redick and Tory Thierolf.
Flanagan and Redick, each consistent starters and top-five leading scorers, will certainly be missed on the hardwood for both their offensive efforts and tenacious defense. Thierolf will also be missed, as she turned into a key contributor during last year's CAA conference play towards the end of the season.
Although she will be missed on the court itself, Flanagan remains with the team as a staff assistant, continuing her legacy as a Dragon. The Dragons also have a newly appointed assistant coach, Michelle Baker, a former Saint Joseph's University basketball player, who previously worked with the team as the operations graduate assistant.
In the absence of the three graduating players, the Dragons are welcoming four new freshmen to the squad this year: 5-foot-9-inch forward April Henson from Lorton, Virginia; 5-foot-8-inch forward Kelsi Lidge, from Aurora Colorado; 5-foot-11-inch guard Megan Marecic from Bethel Park, Pennsylvania; and 5-foot-10-inch perimeter and inside player Sara Woods from Olney, Maryland.
In a recent preseason CAA poll, Drexel has been tabbed as a predicted third place finisher for the 2014-2015 season, behind rivals James Madison University and the University of Delaware. At the end of last year's season, the Dragons finished in fourth place, behind JMU, Delaware and the College of Charleston.
James Madison, the defending CAA champion, returns an experienced team this year, with three All-CAA preseason team players returning to the court and nine returning players on the whole. Similarly, Delaware, the second place team, returns most of their team and an All-CAA preseason player this season.
Also included in CAA preseason for rankings for the Dragons is junior Rachel Pearson. Pearson, who led the team in scoring last season averaging 10.3 points per game, has earned a spot on the preseason All-CAA second team. She, along with returning starters from Archbishop Carroll High School, Meghan Creighton and Sarah Curran, will likely be key contributors and players to watch for the Dragons this season, along with sophomore guard Alexis Smith.
Drexel will kick off their season at home on Sunday, Nov. 16, at the Daskalakis Athletic Center versus Cornell University in out-of-league play. Their other out-of-league contests will include some of the best competition in the women's game nationwide, such as Princeton University and Philadelphia rivals University of Pennsylvania and Saint Joseph's University. The Dragons will begin CAA competition Jan. 4, tipping off at home versus Northeastern University.