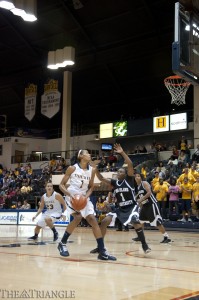 As the first official practice of the 2012-13 season nears, the Drexel University women's basketball team welcomes its new members and prepares to initiate them into its lineup. The Dragons, who boasted a 19-14 overall and 12-6 Colonial Athletic Association record in 2011-12, will add five new athletes this year. Four seniors graduated in the spring, opening up significant space for the new crop of talent. Last year's seniors as a group accounted for over half of the team's total points scored and over 45 percent of its total minutes played, a testament to the strength of the class.
While filling the void left by the graduates, top scorer and co-MVP Kamile Nacickaite in particular, is certainly a tall order, the new additions to the team are up for the task. All five recruits come to Drexel after impressive careers at the high school and junior college levels, which will surely help them make smooth transitions to the next level. This year's rookie class is good on a national level, with three of the five recruits ranked in the top 100 in the nation by ESPN HoopGurlz.
One of Drexel's top recruits is freshman Meghan Creighton, a 5-foot-7-inch guard from Archbishop John Carroll High School in Radnor, Pa. Creighton had one of the most accomplished high school careers of this year's recruiting class, which consisted of three Philadelphia Catholic League championships, two Pennsylvania state championships and the 2012 Catholic League Player of the Year Award, among numerous other individual honors. Head coach Denise Dillon pointed out that "Meg's knowledge of the game will help make a smooth transition for her from high school to the collegiate level. Her ability to knock down the three-point shot makes her a good fit for our system." As the 31st-ranked point guard in the nation, Creighton is expected to have an immediate impact for Drexel.
Another newcomer expected to contribute to the team right away is freshman Rachel Pearson, a 5-foot-11-inch swing player who was teammates with Creighton at Archbishop Carroll. Pearson, like Creighton, helped lead Carroll to two state championships and three Catholic League titles while earning many individual honors, including first-team All-Catholic League and first-team All-Delaware County. More important than the awards was Pearson's contribution to her team. She averaged 10.5 points and seven rebounds per game, pacing her team to a 29-2 season, which earned them a national ranking of 38. Pearson's versatility on the offensive end opens many doors for Drexel. According to Dillon, "that will enable her to fit a number of positions for us." The ability to use a player in multiple positions is a valuable asset that can help increase efficiency for a team as a whole.
Adding additional depth in the Dragons' backcourt is freshman Carrie Alexander, a 5-foot-7-inch guard from Bishop McNamara High School in Forestville, Md. Alexander had a strong high school career, boasting awards and honors such as two All-Washington Athletic Conference honorable mentions and one first-team honor and the Gwynn Park Girls Basketball Fall League MVP Award. She has a mid-range game and the ability to get to the rim, which Dillon intends to "encourage and develop" because it adds another dimension to the offense.
Last season, Drexel was one of the best defensive teams in the nation, allowing only 54.3 points per game. In order to further establish themselves as a defensive stalwart, the Dragons recruited junior Jamila Thompson, a 6-foot-4-inch forward out of Daytona State College in Daytona Beach, Fla. Thompson, who spent her first two seasons of eligibility at Daytona State, is a very defensive-minded player. She led her team to Mid-Florida Conference championships in 2011 and 2012 and received Defensive Player of the Year honors each time. Dillon described that Thompson "will be a force on defense and will help create offensive opportunities." Thompson's exceptional size and quickness allow her to contribute to both ends of the floor.
Also in the frontcourt is freshman Pandora Wilson, a 6-foot forward from The Academy of the Holy Cross in Kensington, Md. As a high school player, Wilson received All-Washington Catholic Athletic Conference first-team honors twice and second-team honors once. Dillon remarked that she "offers us a different look in the post. She has the ability to score with her back to the basket." Additional skill sets are key anywhere on the floor and often open up more opportunities for teammates.
Each of the new additions to the Drexel women's basketball team is expected to make an impact this season. By building on their accomplished basketball careers leading up to Drexel, each player will be able to make a contribution in the near future.