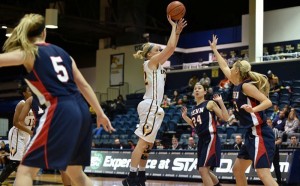 Good things come in threes — or at least they did last week, as the Drexel University women's basketball team has gone on a three game winning streak following their two tough loses at home at the beginning of February.
While no team wants to lose games with the end of the regular season approaching, Drexel's losses against The College of William & Mary and James Madison University proved to be important. The Dragons are now back in their groove, and more focused than before.
"I think it was a little bit of a wake-up call, that weekend we had with William & Mary and JMU. … Girls showed up at practice [afterwards] and had a bit of a changed attitude and gave a little more effort and it carried into that first game against Towson," noted head coach Denise Dillon.
Following wins at Towson University and the College of Charleston Feb. 15 and 19, the Dragons picked up another tight win Feb. 22 at the University of Delaware with a final score of 67-64.
"We certainly expected it to be a battle. Beating them here at home [earlier this season] was not easy. … We stayed focused at Delaware knowing it's never easy to play on the road, especially against our top rival," Dillon said.
Drexel went into halftime down by one point at a score of 29-28. In the first half alone, sophomore Sarah Curran added 11 points.
Again, it would be the defense that would stop the Blue Hens in their tracks as Drexel rallied for the win. For the game, Drexel forced Delaware into committing 14 turnovers.
"[This team] identifies themselves as a defensive team, [and we] lean on that to get us through", Dillon explained.
The inside game also helped the Dragons capture the win, as 22 of their 67 points scored came from within the paint.
As the Dragons fought back in the second half, Curran would match her first half efforts, adding an additional 10 points for a total of 21, going an impressive 5 for 5 from three-point-range. Sophomore Alexis Smith, who has recently elevated herself as a huge contributor for the Dragons, added 16. Senior Jackie Schluth, dubbed with Colonial Athletic Association player of the week honors, also added 16 in the effort.
"Jackie is really coming into her own. I'm extremely proud of what she's doing on the court. Jackie is that player you root for. She represents this program and the university so well," Dillon said, acknowledging the honor.
Schluth, a senior, has had several years plagued by injury, limiting her play during her career. This year is one of the first that she's had the opportunity to play a complete season injury-free. In the past two road games against Charleston and Delaware, she has contributed 18 and 16 points respectively, which earned her the CAA honors.
"We knew what her ability was and that's why we brought [Jackie] here. It's great to see her get that chance injury-free and play an entire season thus far without any setbacks. Jackie recognizes when she's playing well good things happen for the team. She's the first to say it's not about any individual recognition, but knows if she steps her game up we can do some damage," Dillon continued.
This weekend will mark senior celebrations for the Dragons, for both Schulth and senior teammate Jamila Thompson as the Dragons have their last two regular season home games of the year versus opponents Elon University and Towson. These games will be particularly important before Drexel hits the road next Wednesday, March 4 and heads to Northeastern University for their last game of the regular season.
Elon, currently in the fourth place in the CAA, will be especially important as the teams battle for final playoff spots.
"You can't use the word 'focused' more than enough," Dillon said of the team's goals for the last week of the regular season. "It's taking one game at a time, one practice at time, and understanding you can get better at this point. If you think you've already done everything necessary, and you're at your peak, you're not going to win the final stretch. But if you feel you can get better and do something a little harder and work a little bit more, things will take care of themselves," Dillon continued confidently.
The Dragons tip off against Elon Friday, Feb. 27 at 7 p.m., followed by another home game Sunday, March 1 against Towson at 3 p.m.