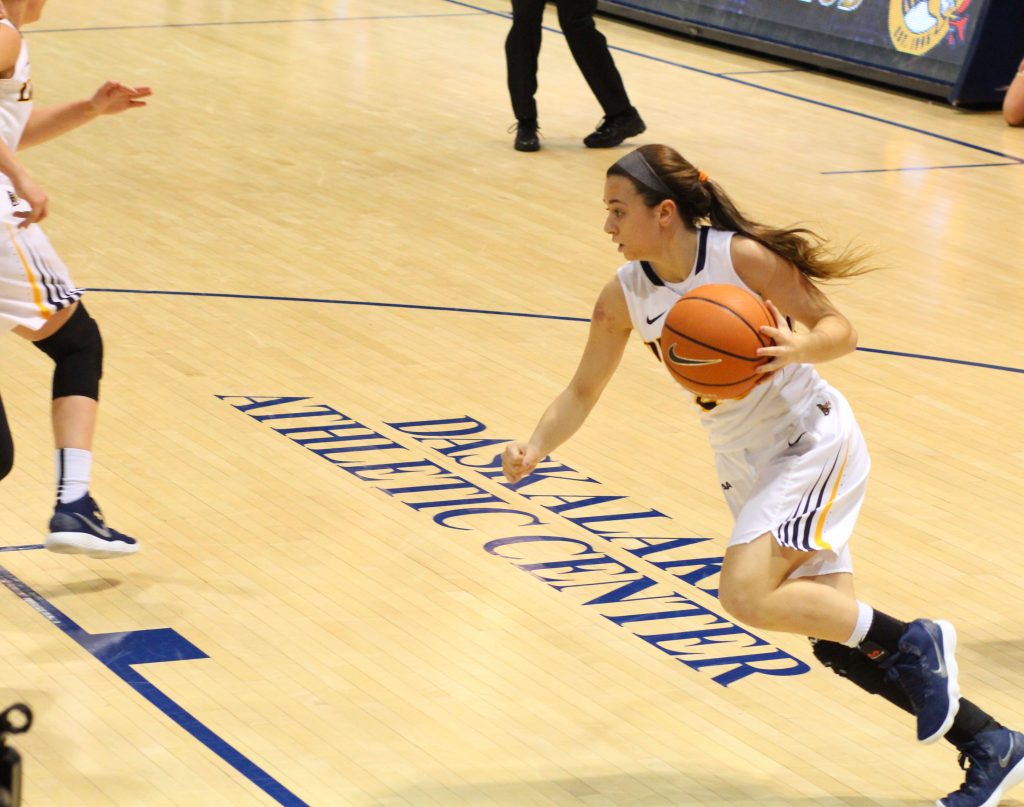 The Drexel University women's basketball team hosted the Colonial Athletic Association championship tournament March 8-10. They played the University of North Carolina Wilmington in the quarterfinals March 8.
Drexel dominated the first quarter as UNCW only managed to score four points compared to Drexel's 20. UNCW rebounded in the second quarter outscoring Drexel 16-11. The score at halftime was 31-20 in favor of Drexel.
Drexel senior Kelsi Lidge led the Dragons in scoring with 13 points in the first half, which included three three-pointers. In the second half the Dragons shot 50 percent from the field and had 10 steals.
The Dragons had 18 steals overall and forced 25 turnovers in the game. Drexel outscored UNCW 40-21 in the second half to give the Dragons a resounding 71-41 victory to advance to the semifinals.
Drexel faced the fifth seeded University of Delaware in the CAA semifinals March 9. Drexel had a tough matchup in this one as they went against CAA Player of the Year Nicole Enabosi, whom they held scoreless in the first half.
Drexel had a four point halftime lead despite shooting only 24 percent from field goal range. The Dragons trailed the Blue Hens for the entire second half until Kelsi Lidge hit a free throw to tie the game at 46 with 22 seconds remaining.
Drexel had a chance to win the game at the buzzer but Lidge missed the shot, sending the game into overtime. In overtime the Dragons outscored Delaware 12-7 giving Drexel a victory of 58-53.
Drexel was led by sophomore Aubree Brown and Lidge who both scored four points in overtime. The victory set up a date with No. 3 seed Elon University for the CAA championship finals.
The championship game was played March 10 at the Daskalakis Athletic Center where Drexel was 15-0 coming in to the game.
In the first half Drexel was outplayed by Elon who outscored the Dragons 27-17 while shooting 55 percent and holding Drexel to 21 percent. Elon's dominance continued in the third quarter as they outscored Drexel by eight points to take a 18 point lead heading into the fourth quarter.
For the first six minutes of the fourth quarter, Drexel looked like a motivated team for the first time that day. This motivation allowed them to score 12 unanswered points, cutting Elon's lead to just six points.
Freshman Hannah Nihill scored 12 of her 14 points in the second half, including three free throws during the 12 point comeback. With all the momentum heading Drexel's way, Elon senior Meme Garner hit a three with 2:11 left to increase the lead to nine while also silencing the Drexel crowd.
In the end, Elon won 57-45 giving Drexel their first loss at the DAC this year and ending their hopes of competing at the National Collegiate Athletic Association tournament.