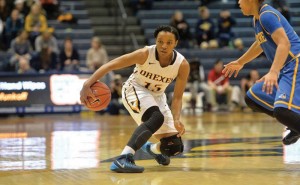 The Drexel University women's basketball team is preparing to get on the road after they've turned cold at home, dropping two games in a row to Colonial Athletic Association rivals — The College of William & Mary Feb. 6 and James Madison University Feb. 8.
Drexel, 14-9 overall, had only lost one game at home before their contests last weekend, and were on a four-game winning streak before they met their defeat in double-overtime loss versus William & Mary.
Despite many a mental lapse against the Tribe, the Dragons kept themselves in the game until the second overtime. Drexel was up by two points going into halftime, but was plagued by an unsightly amount of turnovers, totaling 26 including the two overtime periods.
"Friday night's game against William & Mary was just a matter of too many lulls in our execution on offense and … getting the necessary stops on defense," head coach Denise Dillon said.
Despite the loss, four Dragons put up double figures against the Tribe. Senior Jackie Schluth added 14, juniors Rachel Pearson and Carrie Alexander added 11 and 10, respectively, and sophomore Alexis Smith contributed 11. The final score of the game was 72-68.
Against James Madison, the Dragons faced a much less competitive game, as the Dukes, who are undefeated in conference play, dominated the first half. Going into the second period, the Dukes led by 17 points after shooting an impressive 57 percent from the field. The Dragons, on the other hand, struggled to put the ball in the net, going only 31 percent from the floor.
"Shots didn't fall for us and we didn't get stops that we needed, and it snowballed," Dillon explained.
James Madison was powered by their strong inside game, led by CAA bullies Precious Hall and Lauren Okafor, despite Drexel's effort to contain the Dukes two leading scorers. Hall added 19 points and Okafor contributed 11.
"We knew it was going to be a battle," Dillon said. "[James Madison], they're legit, and they've proven that in this conference."
While the Dragons fell behind in the first half, they didn't go down without a fight. Attempting to decrease the first half deficit, they battled in the second half, and the Dukes only outscored the Dragons by one bucket.
"I was pleased with the turn around in the second half. … At halftime I talked about trying to get back to what we do, how do we identify ourselves? We're a defensive team. … It's a matter of just fighting, giving it all we have," Dillon said. Drexel held the Dukes to 30 points in the second half, a strong improvement from the 43 that James Madison netted in the first half.
Big numbers for the Dragons again came from Schluth, Pearson and Alexander, with 10, 12 and 13 points each respectively. Senior Jamila Thompson also added eight points and six boards. The final score was 73-54.
Now with four conference losses under their belt, the Dragons are looking to buckle down and hang on to their No. 2 spot with just under a month of regular season play left before playoffs begin. While they hold second place in the conference with a record of 8-4, Elon and Hofstra are not far behind, with records of 7-4 and 7-5 respectively.
"It's up to us to get ourselves back on track to try and hold that two spot," Dillon said.
From here on out, it is the Dragon's goal to stay focused and disciplined, with the regular season quickly coming to a close and key games coming up to definitively secure a playoff spot.
"It's trying not to look ahead, it's each day at practice, getting better and then focusing on the next opponent," Dillon said.
"It really is the willingness to continue to get better, [to have an] open mind to learn, make adjustments … show up each day [and] say what more can we do," Dillon explained.
Drexel will hit the road Sunday, Feb. 15 and head to Towson University for their first of three consecutive away games. After Towson, the Dragons will face the College of Charleston, and rival University of Delaware. Dillon is confident that despite the fact they won't have the home court advantage, the Dragons will perform well.
"I think it might be a good thing for us," Dillon said about getting on the road. "I always say when you're on the road, there are less distractions, you have one job: to get out there and play. You're focused on your opponent and what their tendencies are and what you have to do as a player and as a team."