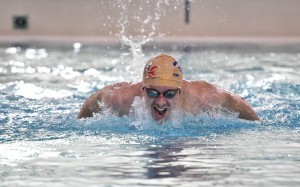 The Drexel University men's and women's swimming and diving teams took to the water this weekend against Howard University and the New Jersey Institute of Technology. Both teams competed against Howard University, but only the Men's team competed against NJIT.
The women's team came off of a disappointing match last weekend versus the University of Delaware and Northeastern University, as they lost both of the contests. They looked to this weekend to reestablish a winning trend, and that's exactly what they did. The first event of the day was a 200 medley relay, swam by Aubrey Murray, Rebecca Churchill, Niki Fistrovic and Rachel Bernhardt. With a time of 1:52.40, the relay team found their way to first place. Drexel also had a second team that consisted of Therese Mastrandrea, Sarah Cahill, Charlotte Myers and Emily Lau finished in second with a time of 1:54.34.
Myers continued her day winning her first collegiate meet. The freshman from Stockholm swam a 1:58.80 in the 200 free to notch herself an impressive victory. Myers also swam the fastest time in the 50 fly with a time of 26.60.
Behind Myers in the 200 free was Fistrovic, who swam a 1:59.16 to earn second place. Gillian Gress and Mastrandrea took first a second place in the 50 back with times of 29.05 and 30.25 respectively.
In the 50 breast and 50 free, Rachel Bernhardt beat out her competition in each race with times of 29.77 and 24.26. Murray took second in the 50 free with a time of 25.23. Murray also won the 100 back, coming in at 1:00.37. Emily Joyce took second place with a time of 1:01.02. Joyce won the 1000 free, a long and tough race, with a time of 10:38.00.
In the 100 fly, Miranda Rouse took first place with a time of 1:01.44. Lau and Deborah Stoddard came close to Rouse with times of 1:02.33 and 1:03.03. Churchill took second place in the 50 breast, and then won the 100 breast with a 1:09.74 time. Claudia Duguay won herself a nice race in the 100 free with a time of 53.68.
The women won the meet by a score of 159-88, defeating Howard University impressively. The men had similar luck against Howard University and NJIT. They met again started with a win in the 200 medley relay. J.T. Lumpkin, Harrison Schultz, Patrick Cobb and Liam Kelly accumulated a time of 1:36.52 to beat their opponents. Alberto Lagrutta Saenz, Ralph Cannarozzi III, Sean Swartz and Luke Hanner swam in the second group, which came in a close second with a time of 1:36.86.
Ralph Cannarozzi and Schultz finished the 50 and 100 breast in first and second place respectively. Cannarozzi finished with times of 27.12 for the 50 and 59.76 for the 100. Schultz finished with times of 27.67 and 1:00.25.
Kyle Lukens had himself a great day, winning the 50 back and the 50 free. Lukens swam a time of 23.63 for the 50 back and 21.22 for the 50 free to notch himself the victories. In the 500 free Luke Hanner touched the wall at 4:46.68, which was good enough to notch him the first place. Hanner also received second place in the 100 fly with a time of 53.02. Ryan DeMott won the 100 fly with his best time ever, 54.04.
It was a big day for Saenz who won his first individual event, the 100 back. He ended with a time of 53.62. In the 1000 free, Cobb and Ivo Pejovic took first and second. Cobb finished with a time of 9:53.97 and Pejovic notched a time of 9:54.54.
Pejovic also finished second in the 100 free with a time of 48.5, and Matthew Klotz finished a close third with a time of 48.55. Dane Bell finished second in the 200 free with a time of 1:44.69. He also finished third in the 100 back, notching a time of 54.91. Joseph Brown finished in second place for the 500 free, with a time of 4:47.36. In the 50 breast, Brown earned third place with a time of 28.35.
The men's team beat Howard University by a score of 186-71, and beat NJIT by a score of 159-123. Both the men's and women's team will be traveling to Washington D.C. to match up against Georgetown University on Jan. 21. They will be hosting Lehigh University Jan. 30, which is also senior day for the Dragons, so the emotions will certainly be high.