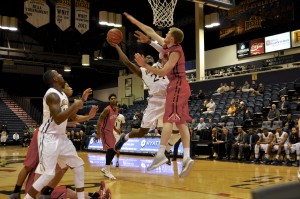 On his first defensive possession of the calendar year, sophomore forward Rodney Williams slid into the lane and made Northeastern University forward Scott Eatherton change his mind about driving to the hoop.
Williams hadn't played since Dec. 28 because of a stress fracture in his right foot. He returned to action for the Drexel men's basketball team in its 65-60 win over Northeastern Jan. 28 and had an immediate impact, helping the Dragons to their first consecutive wins of the season.
The sophomore's impact wasn't glaringly evident when the final stat sheets were passed around; Williams finished with four points on two-of-eight shooting, four rebounds, and one block in 26 minutes of action.
But his presence was felt in other ways as the Dragons played some of their most assured basketball, on both ends of the floor, since conference play began.
First and foremost, head coach James "Bruiser" Flint explained, Williams brought experience and know-how. He let the team be itself for the first time in a month.
"We ran some plays tonight that we hadn't ran in a long time, just because he has a feel for what he's doing," Flint explained after the game.
"We can throw it to him [on offense] and he actually becomes a threat, so you actually offensive rebound a little bit better because their other guys think they have to help off for him. He just gives us a guy with a lot more experience, and you can throw it to him a little bit and he gets some baskets, which makes a difference.
"He just puts everybody at ease."
Williams attempted eight shots on the night, which tied the most field goal attempts by any forward in his absence. It happened just once, when freshman Tyshawn Myles attempted eight field goals in a Jan. 17 win over the University of Delaware.
But Williams is a different kind of offensive threat, and he received more entry passes than any forward saw during his time on the bench. It was a different Drexel offense altogether, one that clicked for 46 points in the second half.
The sophomore forward admitted after the game that he didn't expect to play 26 minutes in his first game back from the injury. He practiced with the second team offense all week, and expected to come in just as relief.
Williams said his foot felt fine during the game; an opponent actually stepped on it at one point, and there was no pain, which he took as a good sign. He was a little winded, he said, but he was there for his teammates.
So Flint played him in big chunks, in large part because of the effect he was having on both teams.
"I thought Rod played really good defense against their guys," Flint said. "And by putting another guy out there with experience, you're not breaking down as much. We play the young guys, you just break down because they don't know any better. Now you've got somebody out there [with experience]."
It was good timing to have Williams back, as the Dragons were going up against Northeastern's Scott Eatherton. The Huskies' senior forward averaged 16.5 points per game and 15.0 rebounds per game in the last two meetings between the teams, and without Williams, he could have been in line for another big performance.
But Williams did a good job of keeping Eatherton away from the hoop in the second half, playing physically on the defensive end against the senior, and even blocking a shot that turned into a layup for the Dragons in the second half.
"Me being able to play, especially with Eatherton tonight, it was kind of big time for our defense to have experience going against their experience," Williams explained. "I thought I did really well. I felt like I didn't let [Eatherton] get his shots off. He got a couple easy baskets in the first half, but in the second half he didn't really give them anything.
"He's a great player, but tonight I thought I did a good job."