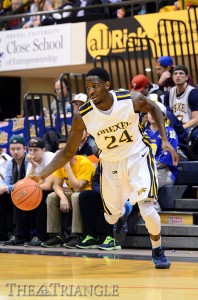 Mention the term "man-games missed" to a head coach in any sport and watch them cringe. Mention the term to Drexel men's basketball head coach James "Bruiser" Flint and watch his steely resolve deflect the pain.
He has been to that dark realm of coaching one too many times. This past week it reared its ugly head again.
Junior forward Kazembe Abif broke his hand in practice last week, the team announced Friday evening in a statement, and will miss 4-6 weeks, effectively ending the big man's season. Abif was averaging 7.2 points and 6.6 rebounds per game, and 7.3 points and 10 rebounds per game in his last three contests, which ended up being the last three contests of his season.
"It was a really disappointing year for me because I haven't really been healthy all year," Abif told Philahoops.com. "To be getting healthy again after my knee, for it to end abruptly like that, it's really disappointing."
But there's no time for lingering on the disappointing in college basketball, especially not in February. The Dragons had a game Feb. 8 versus James Madison University, and Abif's place was taken — for good, this time — by freshman forward Rodney Williams.
Williams took it upon himself to step up in Abif's absence, going for 14 points, 10 rebounds and four blocks for his first career double-double in a 78-60 victory over the Dukes.
It was an impressive performance from a player with impressive potential put in a tight situation. It was, to speak in no uncertain terms, the best game of his career.
"It felt great," Williams told reporters after the game. "I knew with [Abif] out that it was going to be a big possibility for me to perform, so I knew I had to crash the glass to help the team. A lot of it is being ready to score."
And score he did.
Williams' previous highest-scoring game came exactly one month earlier, Jan. 8, in an 85-73 road loss to The College of William & Mary. What held him back from hitting double-digits that night was his foul shooting.
Saturday afternoon, Williams ensured that wouldn't be the case. The freshman shot 4-6 from the field and nailed 6-8 foul shots, doubling his career high for free throws made in a single game. His head coach took notice.
"Honestly, a lot of what he did today was he made foul shots," Flint said of Williams's breakout game. "When you make foul shots, you're much more aggressive to the basket. You know why? Because you know you're going to make them. If you miss them, you know, you're not ready, because if a guy fouls you, the other team knows, 'Just foul him, he's going to miss them.'"
"He made some foul shots, he got some confidence, and he finishes at the basket."
Flint acted characteristically subdued after the game, but spoke volumes of what he sees in Williams with an anecdote from his old coaching days.
"Had a kid on my team at [the University of Massachusetts Amherst], never ran a play for him," Flint mused. "Averaged 12 points and 10 rebounds. All confidence. Never ran a play for him. But one of the big things we talked about to him was, 'You've got to shoot 70 percent from the foul line.' And he did. And now all of a sudden his points go up. Rodney's the same way."
Kitwana Rhymer was the 6-foot-10-inch, 256-pound center who played under Bruiser Flint's dutiful watch at the University of Massachusetts for three years, until 2001 when Flint left the program to come to Drexel. Flint may have been generous with Rhymer's stats — the big man averaged 9.9 points and 7.3 rebounds during his junior season at UMass — but his point was evident, especially after what he saw Saturday afternoon.
Rodney Williams can be the Dragons' Rhymer down the stretch and into the Colonial Athletic Association Tournament. The Dragons will need him to continue to develop his game without seeing dedicated plays run for him since Drexel's offense is heavily guard-centric for the time being. But, playing with confidence, Williams can be dangerous.
"He's one of the best finishers in the league if he gets it around the basket," Flint said. "He finishes the play."
To observers of the rough, talented freshman, this has been clear all season long. And, to paraphrase Kanye West, he has the facts to back this.
According to Hoop-Math, through Saturday's contest, 50 of Rodney Williams's 76 shot attempts this season came at the rim; on layups, tip-ins or dunks. A team-high 20 of them came on put-backs, three ahead of senior forward Dartaye Ruffin. And of those 50 shots at the rim, Williams has converted 34 of them, or 68 percent.
It's a fact: Williams has been Drexel's most talented finisher around the basket this season.
And as of late, he has also been their most consistent finisher. With injuries to Ruffin and Abif sidelining them for two and six of the team's past 10 games, respectively, Williams has already taken on the brunt of the inside game.
In the last 10 games, Williams has attempted 46 field goals, Ruffin has attempted 35, and Abif has attempted 20. Calculating for games missed, Abif has attempted 5 shots per game in the Dragons' last 10, Williams has attempted 4.6, and Ruffin has attempted 4.38.
While Abif's absence will certainly be noted, Williams has spent the last month of games filling in for Abif so well that he's become the team's most formidable offensive forward. The freshman is ready for Drexel's stretch run to the postseason. The only question that remains is whether his 14-point, 10-rebound performance was an anomaly or a sign of things to come.
Thursday night's 47-46 loss to the College of Charleston was indicative of little in either direction. The Dragons on the whole were unable to muster much offense — shooting 32.1 percent from the field — but Charleston shot a nearly identical 32.7 percent.
Neither team held a lead larger than six points throughout the bizarre game and the Cougars took a one-point lead into the final minute of the contest, eventually winning on a Willis Hall floater with 3.8 seconds to play. Chris Fouch's last-ditch layup attempt bounced just long as time expired.
The Dragons play again Feb. 16 when they host the Hofstra University Pride (8-18, 4-7 CAA) at 8 p.m.