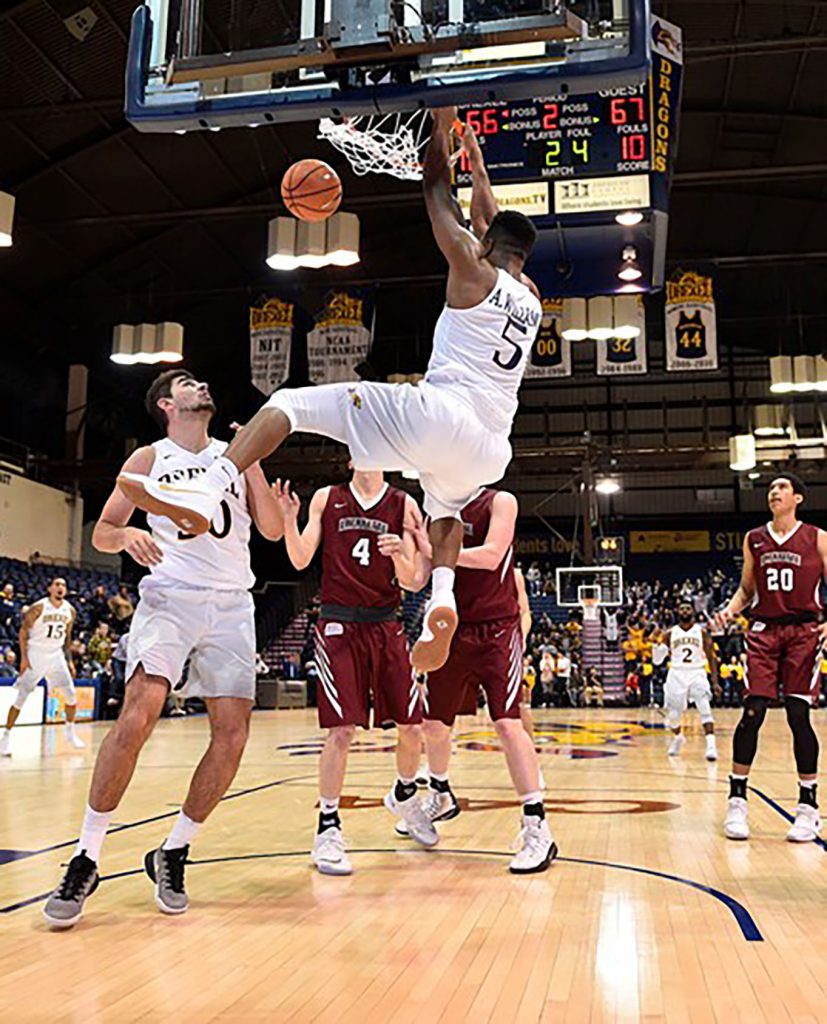 The Drexel University men's basketball team participated in the Paradise Jam basketball tournament Nov. 17-19. The first game was played against the University of Houston, in which the Dragons won 84-80, despite giving up 37 points to Houston's Rob Gray. Junior Tramaine Isabell continued his surprising emergence leading Drexel with 21 points and 16 rebounds. Senior Sammy Mojica hit a crucial three-pointer with 28 seconds left to give the Dragons the victory. This was an impressive victory for Drexel defeating a big-name school like Houston who were in the National Invitation Tournament last year.
In the semifinal game of the Paradise Jam tournament Drexel was beaten by Mercer University 78-59. Drexel could not contain Mercer's Ria'n Holland, who scored 29 points. Isabell was Drexel's leading scorer as he contributed 14 points off the bench. Despite the tough loss, Drexel managed to shoot an impressive 41 percent from three-point land.
In their third game at Paradise Jam, Drexel had a thrilling double overtime game against Drake University. Unfortunately, the Dragons lost 90-88. Isabell was incredible as he scored 32 points, eight rebounds and three assists. However, Isabell had a crucial turnover, as he was called for traveling with five seconds left and Drexel down by two. Sophomore Kurk Lee bounced back in this game as he managed to score 21 points, five assists and four rebounds. Despite that, Drexel couldn't contain Drake's De'Antae McMurray who scored 23 points, including the game winning jump shot with 15 seconds left.
The Dragons traveled to Newark to face New Jersey Institute of Technology Nov. 25. Drexel fell to NJIT 65-53 despite having a 34-31 halftime lead. Drexel struggled to keep up with NJIT in the second half as they gave up a 24-6 run to start the half. There was even a point in the second half in which Drexel was held scoreless. Drexel struggled shooting the ball in this game as they only managed to go 33 from the field. Isabell scored 11 points and Lee led the team with 13 points.
The Dragons hosted Lafayette Nov. 29 in an exciting game that went down to the wire in which Drexel was able to win 68-67. Senior Austin Williams did it on both ends as he had the game winning dunk with 13 seconds left and then blocked Lafayette's Jason Williams' shot with six seconds remaining. Williams had 15 points and 10 boards. Isabell continued to be impressive as he scored 19 points to go along with eight boards and four assists. Drexel will look to start a winning streak when Rider University (5-2) comes to town Dec. 2 at 4 p.m.