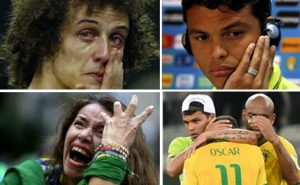 On the fateful night of July 8, 2014, Brazil lined up against Germany in the semifinals of the 2014 World Cup, which was being hosted in Brazil. What occurred in that match was no doubt the most shocking result in World Cup history and probably in all of football as Brazil was utterly torn to shreds, 7-1, by the Germans. The game was so devasting that it now has its own name, referred to as the Mineirazo by Brazilians.
You all know how it went down. Brazil came into the match off their enigmatic victory over high-energy Colombia, but were now left without Neymar and Thiago Silva. Germany arrived after expertly sending France home in the quarterfinals. While most were expecting a tight game, Thomas Mueller opened the score in the 11th minute after terrible marking during a corner. Absolutely atrocious defending from the Brazilians continued as Miroslav Klose slotted home Germany's second, breaking Ronaldo de Lima's record for most World Cup goals in history. From there on, the match descended into chaos as Germany scored a total of four goals within the next six minutes: two goals from Toni Kroos and one from Sami Khedira adding to Klose's goal.
Brazil ended the first half 5-0 down, and while they tried to mount a comeback, their efforts proved futile after Andre Schuerrle came off the bench and scored two in the final 20 minutes. Oscar was able to score a consolation goal for Brazil in the final moments, but the damage had already been done.
The match ended in a 7-1 defeat for Brazil, their worst ever defeat in the World Cup, their first defeat on home soil since 1975 and a result that equaled their previous record for heaviest defeat, a 6-0 loss at the hands of Uruguay in 1920. This was also the worst defeat of any team in the semifinals of the World Cup and the worst defeat suffered by a host nation. To add insult to injury, the German striker, Klose, eclipsed de Lima, Brazil's best ever striker, for most goals in World Cup history.
But let's not forget who Brazil are. They are no doubt the most successful national team in football history. They have won more trophies than any other country, including five World Cups, a record high. This is the nation of legends like Pele, Garrincha and Ronaldo, the same land where football is part of national pride and everyday life. So, what was wrong with Brazil? How exactly did the best footballing country in the world concede seven goals in a single match?
Well, the simple answer is that Brazil was missing both Neymar Jr. and Thiago Silva for their semifinal matchup with Germany. Neymar was absent through injury after he sustained a fractured vertebra when the Colombian defender, Juan Zuniga kneed him in the back during their quarterfinal match. Thiago Silva had received a yellow card in that same match after he carelessly fouled Colombia's goalkeeper, David Ospina, and yellow card accumulation meant he would miss the semifinals.
The absence of these two players both metaphorically represents a larger issue within themselves but together they also represent underlying problems with this team which came to an epic climax during this match against Germany. The injury to Neymar was definitely the more high-profile of the two missing players. He was the star of this Brazilian team and the star of the whole World Cup. His awe-inspiring performances throughout the tournament meant that any chance of Brazil winning the World Cup rested on his shoulders.
If one were to look at the statistics, it would only confirm Neymar's importance. In the five matches he played, he scored four goals and had two assists. Brazil scored a total of 11 goals at the 2014 World Cup, meaning that Neymar directly contributed to six out of the 11 or 54 percent, a much higher percentage than any other player in the squad. He also received two Man of the Match awards.
Beyond the stats, Neymar's role in the team was vital to Brazil's success from a moral point of view. If one were to watch this team play, they would see that every attack is either started by Neymar or involves him somehow. The rest of the team seemed to just pass Neymar the ball and expect him to do something.
This is partly because of how great of a player Neymar is, but at the same time, it shows how much the rest of Brazil's attack underperformed. At the 2014 World Cup, Givanildo "Hulk" Vieira de Sousa had great runs but his decisions in the final third were atrocious. Frederico "Fred" Chaves Guedes was probably the worst player on the pitch against Germany, and arguably had the worst performance of any player in the entire tournament. Willian Borges da Silva barely got to play but when he did, he did not necessarily impress. Like Willian, Joao "Jo" de Assis Silva did not play much but was even worse in the few moments he had on the pitch. And finally, Bernard Anicio Caldeira Duarte, the player who was tasked to fill Neymar's spot, looked like a lost child and failed to replicate any of Neymar's influence on the team. In fact, the only attacker besides Neymar who had a decent tournament was Oscar dos Santos Emboaba Junior. Without Neymar, Brazil had major problems up top. Not only was their top goal scorer and creator gone, but they did not have anyone able to replace him.
The moral damage of not having Neymar was equally devasting, the entire team's success was depending on him. Even with everyone in top form, Neymar was still the lynchpin. A player of his caliber forces the opposing team to dedicate an extra defender to cover him, restricting freedom of the overall team. He was the player that would induce fear in all the teams they faced. He was also the player whose face was on television commercials, billboards and magazines across the nation. The same player whose name was on the shirts of all the children up in the stands. Losing Neymar Jr. was the worst possible thing that could happen to this fragile Brazilian team, and it happened.
While Thiago Silva's yellow card suspension did not generate as much media attention as Neymar's injury, it should in no way diminish how harmful his absence was. Besides Neymar, Silva was no doubt Brazil's next best player. To put it metaphorically, Thiago Silva was the glue that desperately held together Brazil's already shaky defense. He was also the captain of this team and one of the most experienced players.
While many criticized, and continue to, criticize his leadership qualities (and rightly so as he can be too emotional and anxious at times), Silva was arguably the best-suited player in the squad to be captain, certainly better than David Luizwho captained Brazil in his absence. On the pitch, Silva is easily Brazil's best defender in terms of his anticipation of play, composure, ability in the air and eye for tackles.
But his influence is more than that as he is often seen screaming at his teammates, motivating them, telling them where they should be or what they need to do. Without him, the whole team, especially the defense, was completely disorganized, a weakness that Germany heavily exploited. Much like Neymar in offense, Silva was the only defender in Brazil's squad who played well for the most part. Dani Alves da Silva and Marcelo Vieira da Silva Junior were good going forward, but their positioning was appalling, leaving major gaps behind them while Maxwell Scherrer CabelinoAndrade and Maicon Douglas Sisenando looked slow and cumbersome. David Luiz Moreira Marinho had some great moments at this tournament, but at the same time, he also had some truly terrible ones as well. David Luiz by nature is an ambitious and extravagant player. However, his boldness can sometimes be a liability, that's why when he is paired with a more conservative and calculated center back like Thiago Silva, who can cover for him, Luiz's great abilities can be seen on full display. Thiago Silva's replacement for the game against Germany, Dante Bonfim Costa Santos, was the complete opposite of what David Luiz needed. In 2014, Dante was by no means a bad defender, but he was no Thiago Silva, and at times it seemed that Dante and David Luiz were having a competition to see whose decision making can be more rash.          
Lacking players of both Neymar and Thiago Silva's quality would be a great loss for any team, but the fact that Brazil, a nation who is known for being a conveyer belt of world-class talent, couldn't offer proper replacements for these two players, highlights a much deeper problem that existed for Brazil in 2014, and that is that their generation of players simply was not good enough. It is unfortunate, but these things happen in football. National teams have certain generations blessed with talent and others that are not. The generation of Brazilian footballers from 1999 to 2007 and even the generation from 1994 to 1998, made up some of the best teams of all time. In that period, Brazil won two World Cups and four Copa Americas among other many other trophies. A dip in quality was inevitable, but unfortunately for Brazil, it came at the worst possible time, when they were hosting the World Cup. The squads at both the 2010 and 2014 World Cup were evidence of this. While they were not bad squads by any means, but they were subpar by Brazil's high standards. The only reason that Brazil was favored to win the 2014 World Cup was that they were the hosts. But for a footballing powerhouse like Brazil, these generational problems usually resolve themselves over time. And from 2017 to the present day, Brazil have an extremely talented squad and arguably the best team in the world again.
Still, you could take a good but not great squad and achieve success, all it takes is the right manager and an intelligent plan in place. Again, unfortunately for Brazil, they lacked that in 2014. For years, Brazil struggled to find a manager that fit their team, and with the World Cup coming up soon, they panicked and hired Luiz Felipe Scolari, who is commonly known as Felipao, and gave him the job as he won the World Cup with Brazil in 2002. However, the team in 2014 was vastly different than the one in 2002, and Scolari himself is a different man too. And throughout his second tenure, he made several big mistakes which led to Brazil's ultimate demise.
The first major mistake he made was his squad selection. As mentioned before, Brazil was not experiencing a golden generation or anything, but still, Luiz Felipe Scolari made the problem worse with the players he chose to bring to the World Cup. After Brazil emphatically won the 2013 Confederations Cup, also on home soil, Scolari stubbornly stuck with the same starting XI, despite the fact that some of the players were in poor form. Jose "Paulinho" Paulo Bezerra MacielJunior had a mediocre season with Tottenham and Julio Cesar Soares de Espindola was now playing in the MLS, yet they still retained their starting spot for example.
The Confederations Cup is a very different tournament from the World Cup, so Scolari needed to stop harping on the success he had there and modernize his team. There were also some other very questionable picks in the squad too. Both Maicon and Maxwell were called up, and while both used to be great players, they were far past their prime and should not have been in the squad. The players that Scolari overlooked and did not call up raises some eyebrows as well. Despite breaking the Barcelona-Real Madrid hegemony in Spain and winning La Liga before making it to the Champions League Final with Atletico Madrid, all while proving to be some of the best defenders in the World, both Joao Miranda de Souza and Filipe Luis Kasmirski were left at home.
Defense ended up being Brazil's weakest area of the pitch during the tournament, and Miranda and Luis could have been put to great use if they were there. Another area that was lacking was the striker position. Ever since Adriano LeiteRibeiro experienced personal problems and his form dipped, Brazil was lacking an elite striker. However, Scolari had the solution to that problem in the form of Diego da Silva Costa, who was one of the best strikers in the world at the time. But for whatever reason, Scolari never truly gave him a chance, and faced with a desire to want to play at the World Cup, Costa switched his allegiance to Spain, and then went on to represent the Spanish at the World Cup.
Instead of Diego Costa, Scolari trusted in his two strikers Fred and Jo. While I would not consider Fred a world-class player, he was amazing in the Confederations Cup, was the top-scorer of the Brazilian Serie A that year, represented Brazil at the 2006 World Cup, 2007 and 2011 Copa America and was scoring goals for fun in the National Team. True, the 2014 World Cup proved to be too large of a task, but I still understand his place in the squad. Jo, on the other hand, who was a flop at Manchester City back in 2008 before the financial takeover, I do not. No disrespect to the man, but there's no reason Jo should be representing Brazil at the World Cup. Other players who were not called up were the gifted young players Lucas Moura and Marquinhos. Even the Brazilian legends, Kaka and Ronaldinho, who admittedly, were not in the best form, would've brought raw talent, class and valuable experience to this squad.
Upon the fact that Scolari did not even bring the best possible squad to the tournament, the issues were made even worse by Scolari's poor tactical decisions. For the majority of the World Cup, several key members of the starting XI played poorly, yet for the most part, Scolari was stubborn and continued to field them. One can argue that his options on the bench weren't much better, but that itself falls on Scolari's poor decision making too. As was mentioned before, Fred had a genuinely dreadful World Cup but he continued to be the starter striker. Sure, Jo was no upgrade, but Scolari could have changed formation so that Hulk was the center forward or Neymar was a false nine in place of Fred. Speaking of Hulk, he was having a tough time out on the right-wing, but instead of moving him to a different position, or just simply benching him for Willian, Hulk started almost every game. Dani Alves and Paulinho, players who were playing poorly and actually lost their starting spots, were replaced by Maicon and Fernandinho respectively, who played even worse.
Scolari not being able to find the perfect starting lineup, as well as poor tactic decisions, were exposed heavily by Germany in the semifinals. Despite Germany being the best in the competition thus far, Scolari opted to virtually play the exact same formation from earlier matches while having the youth player, Bernard, take Neymar's spot on the left-wing. What Scolari should've done was bench Fred, then play Hulk as the center forward with Oscar directly underneath him and Willian and Ramires Santos do Nascimento on the flanks as deep-lying wingers while Paulinho and Luiz Gustavo sit at the base of midfield. This would've further protected Brazil's defense and given Germany a much harder time controlling the middle of the field. Instead, what happened was Germany completely waltzed right through Brazil's midfield like a tank through a cornfield and Bernard Anicio Caldeira Duarte was completely man-marked out of the game by Philipp Lahm and Jerome Boateng.
Another major issue with this Brazilian was the complete lack of experience as well. Only six of the 23 players in the squad had even played at a World Cup before. Obviously, Scolari had no say there as most of the Brazilians who played in previous World Cups had retired, but at this point, the responsibility was on him in order to mentally prepare these players for this tournament. But instead, the opposite occurred. Throughout the cup, it seemed that this crop of young players was cracking under the pressure little by little, acting too emotional, crying at the national anthem, being too afraid to take penalties during penalty shootouts, etc. and all it took was an experienced team like Germany to shatter it. This is partly the fault of the captain, Thiago Silva, but more so on, again, Luiz Felipe Scolari. Representing your country at the World Cup is usually the most nerve-racking and scary thing the average player faces in his career, but when you are the host nation, and not just any nation, the greatest footballing country on Earth, whose fans were already expecting you to win this tournament before it even started, I'm sure the pressure was at unfathomable degrees.
So overall, there were many reasons that Brazil was crushed under a German fist in Belo Horizonte. Whether it be the absence of Neymar and Thiago Silva, a subpar generation of talent, an inexperienced squad under the pressure of an entire nation or the poor tactic decisions of the coach, open wounds were festering and everything came to head on that infamous Tuesday evening. And while this article mostly focused on Brazil, this should take no credit away from Germany who were perfect, top to bottom. This team was no doubt the deserved winners of the 2014 World Cup and one of the best teams I have ever seen. Germany in 2014 was an absolute machine. Unlike Brazil, funnily enough, they had an incredibly experience