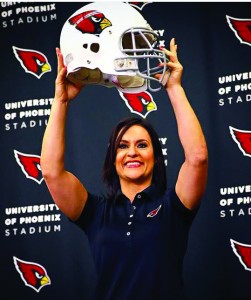 A doctorate student, a football player, a rugby player and a coach. Most significantly, a woman. These are a few of the characteristics and accomplishments of Jennifer Welter. On July 26, she became the first female coach in the history of the National Football League when the Arizona Cardinals.
The Cardinals selected the former football player as one of the training camp interns for the team. Welter is working with the team as an inside linebackers coach.
"The beauty of this [is], while it wasn't a dream I could have ever had, now it's a dream other girls can grow up having," Welter said after the announcement was made, according to the Cardinals' website.
She spoke very highly of head coach Bruce Arians, who is essentially responsible for breaking the gender barrier.
"It was the sheer will of a very strong man called Bruce Arians," Welter told the Los Angeles Times. "No other way. This was all his bravery, and that's why people will follow him."
Although this is an amazing accomplishment for Welter, this is not her first time playing ball with the boys. She was the first woman to play running back in a men's professional football season. Welter was a member of the Indoor Football League's Texas Revolution.
After playing for the team in 2014, she was signed as their linebackers and special teams coach, making her the first woman to coach in a men's professional football league.
On top of that, Welter participated in rugby at Boston College. She has played for several semi-professional football teams. In addition, Welter was a member of the gold-medal-winning Team USA at the Women's World Championships of the International Federation of American Football.
Not only does she bring athletic skill, knowledge of football and experience to her position with the Cardinals, she also has a master's degree in sport psychology and a doctorate in psychology. The education Welter has in these fields is an advantage when working with football players that are mostly comprised of a young and male demographic.
The looming concern associated with a female NFL coach is the issue of respect and if it will be given by the players and by peers.
Ultimately, a coach cannot coach successfully if the players do not give them the respect they deserve.
Thus far, things seem to be going smoothly for Welter. A video clip from Cardinals' practice posted by NFL.com showed the new coach meeting her players for the first time and going through basic drills with them. She has been widely accepted by the league and by her players on the Cardinals in the week since her announcement.
Of course, only time will tell if Coach Welter will have lasting, impactful success, and if a league without female coaches is a thing of the past.