There are many things that make the Vidas Athletic Complex an intimidating arena for visiting teams. Be it the menacing blow-up Mario that keeps guard from aloft, the banners that herald the 1958 National championship-winning men's soccer side or the sound of yet another fire truck screaming away from the nearby fire station. Yet all those pale in comparison to the entreating calls of "Lets go Dragons," "Defense, Defense, Defense!" emanating from the throat of a wee man named Calvin Hicks.
Indefatigable, vocal and loyal through the last whistle, Calvin Hicks' 22-year stay at Drexel has come to represent all that is good about the Drexel home game experience at the Vidas Athletic Complex at 42nd Street and Powelton Ave.
And coming off a 0-2 run on the road, his will be a welcome sound for women's soccer head coach Ray Goon's Dragons as they take on Georgia State in their Colonial Athletic Association opener Sept. 23 at 7 p.m.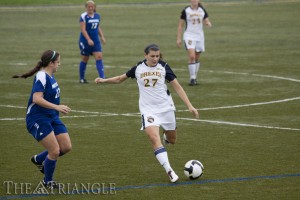 Midfielder Jess Sarkisian passes the ball up the field to a forward. The sophmore Moorestown, N.J. native has two shots on goal in seven games played thus far this season. The Dragons are 2-4-2 in that time span.
Against Wagner, Drexel outshot their opponents 26-8 but were unable to get a goal past Seahawks goalkeeper Katie Marcy as a result of their labors. The visiting Dragons came away instead with a two-goal loss courtesy of a strike by forward Monica Zurich early in the first half and an own goal resulting from a defensive mix-up early in the second. The result left Drexel 2-3-1 overall heading into their last non-conference match up against Rider University in Lawrenceville, N.J.
The Dragons' luck on the road continued to be of the bad variety as once again, despite registering more shots than the home side (13-10), they were unable to find a way past Broncs' goaltenders. Rider's two goals came in the first half, courtesy of fit-again sophomore forward Jennifer Meier.
Speaking in the wake of Drexel's two-game losing streak, Goon spoke about his team's play in front of the net.
"When you're not finishing your chances, that's definitely something to spend time attending to," he said. "However, I would be more concerned if we weren't getting any opportunities at all. This week we'll continue to work on being threatening and dangerous in our attacking third of the field to create the best opportunities possible."
A return to the goal-scoring exploits that saw Temple put to the sword when they visited the hostile surrounds of the Vidas complex will be a welcome change as Drexel looks to get their conference playoff bid started.
0-4-1 on the road so far this season and 2-0-1 at home, it is evident that Drexel's strength is definitely at home — a point Goon was keen to stress.
"Whenever you play at home, there's always more of a sense of comfort," he said. "Our players definitely feel that out at Vidas Field, so it will be good to start our conference schedule there this weekend. When you're on the road, you need to stay mentally focused and not let the unfamiliar things distract you."
With Georgia State coming into the Sept. 23 game on the back of a two-game winning streak that has seen them beat both UNC Asheville and Gardner-Webb University, focus will be key for the home side. Domenic Martelli's Panthers are 3-6 for the season, and despite having conceded 19 goals, carry a hefty offensive threat that has seen them score 14 goals in nine games. Drexel will have to be at their best to avoid a recurrence of last season's 2-0 loss to Martelli's side.
Drexel continues its conference schedule with another home game Sept. 25 against Paul Cairney's UNC Wilmington side. 2-6 for the season, the Seahawks arrive at Vidas looking to halt a four-game losing streak. With the memory of a late-goal loss in double-overtime last season still fresh in the mind of many, one suspects that UNCW will not find Drexel in charitable mood.
Drexel will then take to the road next week for what perhaps will be their most challenging game so far against last season's CAA champions, Hofstra.
Fresh off a season that saw them go 19-2 — Hofstra's only two losses of the season came against Boston College at the start of the season and in the second round of the NCAA Tournament — the Pride have started the season in impressive form, scoring 14 goals and letting in only seven in a six-game run that has seen them garner four wins and two losses. Head coach Simon Riddiough's side's home record of 10 wins and only one loss last season will make for a tough matchup for the travel-weary Dragons.
Boosted by the return of goalkeeper Eve Badana from international duty with Ireland, Goon's side will be looking to take matters one game at a time, starting with the Sept. 23 match against Georgia State.
"Playing from behind in both matches [against Wagner and Rider] helped us identify areas we needed to clean up with regard to playing urgently, but not panicked," he said. "We know all CAA matches will be battles that will require full physical effort, but you also need to maintain composure and execute at the same time."
Cheered on vociferously by the indomitable Calvin Hicks in the familiar surrounds of the Vidas Athletic Complex, it remains to be seen whether home-field advantage will prove to be the tonic for Drexel's woes in front of goal.