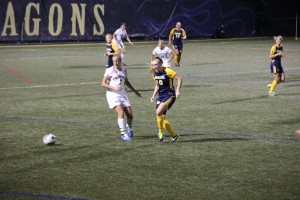 Oscar Wilde supposedly said that youth is wasted on the young. Ray Goon certainly hopes that isn't the case.

Goon, head coach of the Drexel women's soccer team, is bringing in eight freshmen for this upcoming season, pairing a massive influx of young talent with an already-young team.

Last season, then-freshman Shyanne Kimbrough and then-sophomore Lauren Stollar contributed 17 of the team's 42 points, and they were responsible for 40 percent of the goals and assists accrued by the squad. The two scored seven of the team's 15 goals on the season, or nearly 47 percent of the team's entire offensive output.

Now, despite returning veterans like Megan Hammaker, Eve Badana and Sam Greenfield, the team is getting even younger — the incoming class features two forwards, one midfielder and a staggering five defenders.

Beginning at the front of the pitch, new forwards Madison Dunn and Imani Walker bring serious offensive potential to a team that managed just 15 goals in 18 games last season. Dunn scored 17 goals in her freshman season at Freehold Township High School in Freehold, New Jersey, while Walker notched 25 goals as a junior for Milton High School in Alpharetta, Georgia.

Moving back, Kylie Strong will look to help shore up the Dragons' midfield. Strong was an All-County selection in her four years at Red Lion Area Senior High School in Felton, Pennsylvania, and led the team in goals her freshman season. She was a captain for the last three years of her high school career.

And finally, the team has a slew of new defenders.

Kiera Hennessy, Wilhelmina Hauch-Fausboell, Stephanie Soroka, Heidi Gspurning and Aoife Schanche all come to reinforce the Dragons' back line as goaltender Eve Badana looks to continue to reign among the best goaltenders in the Colonial Athletic Association.

Hennessy brings an imposing 6-foot frame to the lineup, making her the tallest player on the roster by one inch, while Hauch-Fausboell competed at the highest level of women's soccer in Denmark.

Schanche received All-Conference, All-County and All-State honors as a senior at Kinnelon High School, while Gspurning was named to the All-League team her sophomore, junior and senior years.

And Soroka, a 5-foot-5-inch defender from Philadelphia, was named William Penn Charter School's team MVP as a junior and a senior.
Goon said he's confident all of the young women he's added to the roster this summer can contribute to the team during the season. The question is not if, but when they'll be ready.

"The challenge for them now is to see how long it will take them to adjust to the college game," Goon said. "The speed of play is faster, it's much more physical, and their decisions will need to be quicker. They'll need to be able to implement that skill set given these factors."

He said that the freshmen will get to experience the high-octane speed of collegiate soccer versus high school sooner rather than later. When the new Dragons report for training camp before the season actually begins, they will get a crash course from the returning players. Goon said that those who adapt quicker will have a better chance of getting on the field sooner.

Fair is fair.

But most of the newcomers can expect to see action at some point this season, in large part because of the exhaustive nature of soccer and specifically the tough scheduling of college soccer.

"It's a grueling season," Goon said. "In the professional ranks, soccer players typically play a game per week, giving them proper recovery time and preparation for the next match. In college soccer, it is not uncommon to play two games per weekend.

"The incoming freshman class instantly gives us much-needed depth that we will definitely need for such occasions."
Goon said that he hopes the more experience the players get now, the more they will be able to help the program as they progress in their careers.
However, despite the youth factor and the idea of building a core base that can propel the team to excellence in the future, Goon said it's not as if this season is being written off as a "building year."

"Every season is a building season in a sense, because it's a new team, a different team, different members," he said. "In this senior class, we have players that have started for four years. But sometimes it's good to be young and not know any better.

"While it's best to have a good balance, you play with the hand you're dealt and we feel really good about our team make-up."
Goon said he expects his young team to make it to the CAA playoffs come November. With the depth and talent the Dragons have brought on this year, don't be surprised if he's right.