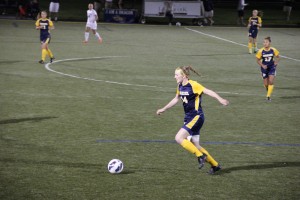 Three days after a big loss at Clemson University, the Drexel women's soccer team returned to Philadelphia needing a quick turnaround against Syracuse University to recover from the 3-0 shutout.
In a performance that mirrored Tim Howard's against Belgium in this past summer's World Cup, goalie Kelsie Fye amassed a personal record 12 saves against the Orange to claw out a 2-2 double overtime draw.
The game looked like it would get out of hand midway through the first half when Syracuse's Jessica Vigna snuck a goal past Fye in the left corner for the 1-0 lead. Eight minutes later, the Orange doubled their lead as Maya Pitts scored a goal courtesy of a Vigna assist. The Dragons would go into the halftime down 2-0, seemingly neutralized by the Orange defense.
That defense began to crack however as the Dragons pulled within one less than five minutes into the second half when senior Megan Hammaker assisted a corner kick into the air for Lauren Stollar to get the ball in the left corner of the net. With the Orange on the run, the Dragons found the equalizer when Stollar rolled past the Syracuse defender for the goal.
Things would remain scoreless for the rest of regulation thanks in large part to Fye's phenomenal performance. In the first overtime, Syracuse had a set piece opportunity in the form of a corner followed by two shots on goal but were all blocked by Fye. Hammaker sent a shot over the goal post in the waning few minutes of the first overtime in a last ditch effort to win the game.
Syracuse came out in attacking mode with two shots to start the second half. Fortunately Fye saved one and the other one just missed the net, sailing wide. As the game wound down, the Orange took one final shot for the win which was airmailed over the goalpost thus ensuring the tie.
Overall, the Orange outshot the Dragons 19 to 13 but more importantly they doubled shots on goal, 14 to 7. The tie gives the Dragons a 1-5-1 record while the Orange move to 3-2-3. The tie does, however, break the five game losing streak that lasted throughout the month long road trip.
The next game for the Dragons will be against The George Washington University, who are 5-1, Sept. 19 at 7 p.m. at Vidas Field where they'll look to get back on track.