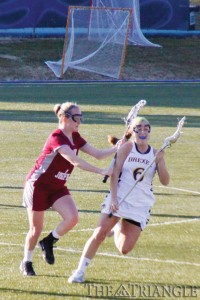 After dropping two games in a row, the Drexel women's lacrosse team looked to bounce back this past week as they took on Colgate University and Mount St. Mary's University.
Following a tough Colonial Athletic Association loss to Hofstra University, the Dragons headed to upstate New York March 3 to take on the Raiders from Colgate.
Things started out for the Dragons much like they did in the Hofstra game. Colgate jumped on them early, scoring the game's first goal just three minutes in. About a minute later Colgate's Monica White took a pass from teammate Amanda O'Sullivan and put it in the back of the net, extending the early lead to 2-0.
After the second goal, Drexel's Kristin Kopenhaver won the draw, and her teammates were able to move the ball down the field, ultimately finishing with Lindsey Kovar's goal.
"Kopenhaver came up with a huge amount of draw controls, which gave us more opportunities on the attacking end," head coach Anna Marie Vesco said.
After the Kovar goal, Colgate was able to answer, making the score 3-1.
Kovar wasn't quite done her first-half scoring, as she found the back of the net for her second goal of the game, which was followed by Charlotte Wood's first of five goals to tie the game. Wood and Colgate's Courtney Miller then traded goals, and the teams went into the locker room knotted up at four apiece.
The Dragons came out of the locker room fired up and immediately took control of the half. Wood's three second-half goals sparked Drexel to an 8-0 run to start the half,  — a run that would prove to be insurmountable for the Raiders.
"Lindsay Kovar was instrumental in sparking our fast breaks, and Charlotte shot a perfect 5-for-5," Vesco said of her team's 12-6 win.
The Dragons also got one goal apiece from Kopenhaver, Alyse Maiden, Kelli Joran and Amanda Norcini. Amanda Santandrea recorded four saves and the winning goal for the Dragons.
Drexel recognized Wood's incredibly strong five-goal showing, which brought her season total to 16, by naming her the University's Athlete of the Week.
"Charlotte took advantage of her opportunities and finished very well," Vesco said.
It was not just the offense that Vesco was proud of, but also her squad's defense, which is something they have struggled with so far this season.
"Our defense has not played to their potential until Colgate," Vesco said. "That was definitely our best defensive showing so far. Our defensive unit is starting to gel."
Vesco's words would certainly ring true as Drexel welcomed Mount St. Mary's to Vidas Field March 7.
The Dragons jumped out to an early 1-0 lead with help from Wood just a minute into the game. That would prove to be all Drexel needed, as they went on to shut out Mount St. Mary's 15-0. It is safe to say the defense has made significant progress in the "gelling" department.
The Dragons' last shutout win was against Rutgers University in 1992.
Emily Kane, who forced a season-high three turnovers, led the defensive effort along with Kopenhaver, who had a career high in caused turnovers with two. Norcini tallied five wins on draws, a season best for her.
The Dragons had eight players score goals, including Wood and Jaclyn Klunder with three each. Norcini, Kelly Palace and Alissa Watts all tallied two. Sam Berger, Kovar and Ali Allen rounded out the scoring with one each.
Drexel is now 4-2 on the season as they get set to continue with out-of-conference play.
"We hope that our upcoming nonconference games give us momentum to take into our conference competitions," Vesco said.
The Dragons' next game will be March 10 at 1 p.m. against city rival La Salle University.