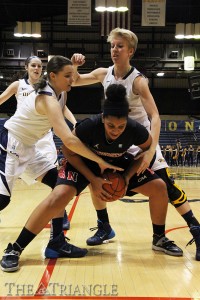 The women's basketball team continued to struggle with bouts of inconsistency on its recent road swing to the Carolinas. Last week, the Dragons fell to the College of Charleston before bouncing back to defeat the University of North Carolina Wilmington on Sunday. It pulled the team's record even at 11-11, though they are an admirable 6-3 in Colonial Athletic Association play.
Feb. 7 marked the Dragons' first trip to Charleston for a CAA game, with the Cougars joining the conference this season. The first-year foes gave Drexel its second consecutive loss with a final score of 71-65 in Charleston.
Drexel played two starkly different halves. In the first half, much like last game against Hofstra University, the Dragons came out flat. They shot an awful 20 percent from the floor, hitting just two of their first 20 shots, and found themselves in a 33-18 hole at the half.
Despite a fierce second-half comeback attempt, a stretch of nearly 11 minutes without scoring doomed them, and they could not overcome a 21-point deficit. A 10-0 run, keyed by a few threes from Rachel Pearson, made the game interesting, but ultimately the Cougars pulled away with the game.
"It's tough," head coach Denise Dillon said. "We say each and every night we're going to battle against each team."
Once again, inconsistency was the story for Drexel. Scoring 18 points in one half and 47 in the next demonstrated just how wildly up-and-down they can be — not just in the season, but in a game.
"I say it over and over again about this team, needing some consistency from top to bottom, and being steady," Dillon explained. "There's not one player we have on our team that we can lean on to put us on their back, so we have to do it collectively."
Despite the deflating loss, the Dragons got back on track and pulled their record back to .500 with a 57-43 victory over the UNC Wilmington Seahawks in Wilmington, N.C., on Sunday. Playing a far more steady game, the Dragons were in command for much of the game.
They used a 13-2 run at the end of the first half to take a 10-point advantage into the locker room. Pearson contributed all nine of her points in the first half to put Drexel comfortably ahead. The lead swelled to 21 as Drexel led by at least 10 points for the entirety of the second half.
Dillon was particularly impressed with Pearson's weekend. She said that her sophomore took a step forward this season and was focused on giving the team a little more of what she can bring.
"I think Rachel realized what we needed this season, and looked in the mirror and said, 'Hey, I have to step my game up a little bit,'" Dillon explained.
Pearson, who leads the team in scoring with 11.1 points per game, brings more to the court than just scoring. Dillon pointed out her standing as the team's second-best rebounder, a reflection of her effort. She said that Pearson is growing into a premiere-type player for Drexel, making her one of the team's most improved players.
"Besides being our leading scorer, she also is our second-leading rebounder, which shows effort," Dillon noted. "I would say Rachel is definitely that player who has transitioned into our focus player, and definitely our most improved player."
Drexel will now head to Towson University for one more road game before returning home, where they will meet the Dukes of James Madison University. Despite the big game looming, Dillon assured that her team will be focused on the game at hand against the Tigers.
"We'll worry about [Towson] for now before looking ahead," Dillon said.
The game was scheduled to take place Thursday evening, but has been rescheduled for Friday, Feb. 14 at 4 p.m. The Tigers, 5-5 in conference play, will be looking to pull even with Drexel's six conference wins. It makes not looking ahead to JMU on "get-away day" even more important.
"We have to go one game at a time," Dillon explained. "We're coming back after a long weekend, a tough one, but it was nice to get down there for some conference games."