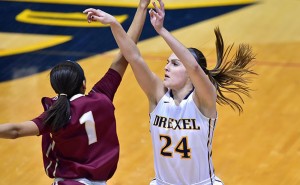 The Drexel University women's basketball team got double digit performances from three players as the Dragons topped No.10 seeded Towson University in the first round of the Colonial Athletic Association playoffs March 10.
Towson met Drexel after upsetting seventh seed, the College of William & Mary, in the preliminary round of the tournament March 9.
The win for Drexel means the end of the season for the Towson Tigers, who will finish the season at 7-24 overall.
Redshirt junior Meghan Creighton, junior Sarah Curran, and sophomore Kelsi Lidge netted 16, 17, and 13 points respectively, to help the Dragons to their 71-54 win at the Show Place Arena in Upper Marlboro, Md. Creighton scored 13 of her 16 points in the second half.
Going into the second half, the game was still within reach for Towson, who only trailed the Dragons by two points before the break at a score of 33-31 — but the Tigers just couldn't claw their way back.
Drexel outscored Towson by a 15 point margin in the last two quarters.
The Dragons shot impressively throughout the game: 56.3 percent for the entirety of the game, and an even higher 63.6 percent in the second half. There was more to the win than a good day offensively; the Drexel defense kicked it up in the final stretch, and held Towson to just eight points in the final quarter of the game.
The win means that the Dragons, now 18-12 on the season, will advance to the semifinal round of the tournament, and will play at 4 p.m. March 11. They will take on the winner of a matchup between No.3 Hofstra University, and No.6 Northeastern University.