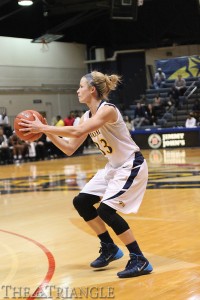 Coming off consecutive defeats, the Drexel women's basketball team was unable to halt its losing streak Dec. 4 in a 65-60 loss to Colgate University. The Dragons struggled early on both offensively and defensively against a Colgate team that was hot in the first half. Despite Drexel's strong start to the second half and even taking the lead late in the game, the Raiders regained their composure to give the Dragons their third straight loss.
Colgate received excellent performances from Lauryn Kobiela and Mariah Jones, who had 23 and 16 points, respectively. After being down 27-23 in the first half, the Dragons grabbed a late lead with the score 53-51. However, Colgate responded right back with a Jones three-pointer. Colgate was able to hold on to the lead from that point on.
"They played hard for 40 minutes," head coach Denise Dillon said. "They were hot early, and they gained confidence from that. They are a tough team; they play very hard."
For the Dragons, it was a struggle on both ends of the court. Dillon said she believes that this loss can be attributed to an overall lack of consistency.
"We struggled a little bit in the first half, which led to some defensive lapses," she said. "We were not consistent enough to get the stops when we needed to."
The offense in the first half was problematic for Drexel. The Dragons' top three scorers — senior Fiona Flanagan and freshmen Sarah Curran and Alexis Smith — went a combined 2-15 from the floor for five points in the first half. Sophomore Rachel Pearson was the main source of offensive production in the first 20 minutes, as she scored 10 points.
The Dragons offense awoke in the second half as a result of their improved three-point shooting, as they went 7-16 from behind the arc. Flanagan led the way for the Dragons in the second half, going 3-6 and finishing with 13 points to go along with eight rebounds and three assists. Sophomore point guard Meghan Creighton finished with 14 points, three assists and three rebounds.
The overall theme of the night was that despite Drexel's efforts to keep Colgate from separating themselves, the Dragons couldn't come up with the crucial stops and shots necessary to complete the comeback. Another area of concern was at the free-throw line. The Dragons are usually a very reliable team when it comes to making their free throws, especially in late-game scenarios, but they went 8-14 from the charity stripe in this game.
Dillon has been stressing to her players that everyone has to keep getting better, and it starts at practice. "It has to be wanting to do more and wanting to do better at practice in order for us to put a complete game together."
Every team will have struggles and rough stretches in the season. As for the Dragons, they are hoping that their rough patch right now will help them prepare and be ready for when Colonial Athletic Association play begins in a little over a month.