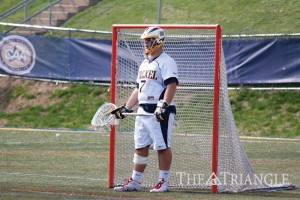 Men's Lacrosse
The United States Intercollegiate Lacrosse Association named two Drexel Dragons to the All-America team as Honorable Mentions. Senior attackman Scott Perri, the 2011 Colonial Athletic Association Player of the Year, and junior goalkeeper Mark Manos were the two players selected.
This is Manos' second straight season being nominated for the All-America team, making him the first Dragon to have two nominations since 1971, and the first to have consecutive nominations since 1961.
Perri was not only the CAA Player of the Year, but also the second top scorer in the nation.
He was recently named as the recipient of the 2011 Mary and John Semanik award, given annually to the top male and female Drexel student athletes.
This is the first time since 1961 that Drexel has had two athletes named to the All-America team. If Manos has another outstanding season next year and earns these honors for a third consecutive year, he will be the first Dragon to do so in the program's 65-year history.