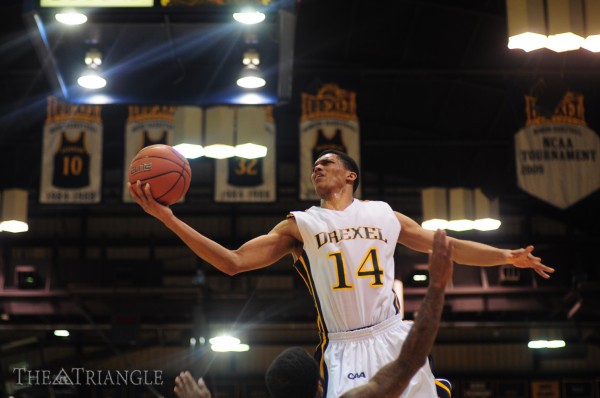 The Drexel men's basketball team did a lot of things right en route to losing to the University of Southern California, 72-70, Nov. 21.
The Dragons shot 52.3 percent from the field and scored 70 points, by far the team's best offensive performance of the season after averaging 48 points per game through the first three outings of the season.
James "Bruiser" Flint's squad out-rebounded the Trojans by 11, picked up three more assists, and shot better from three-point range and from the foul line.
But they turned the ball over — 21 times, to be precise. USC employed a full-court press defense during the second half that turned a 12-point Drexel lead at halftime into one-point Trojan lead with just under 11 minutes to play in the game.
Junior Drexel guard Damion Lee led all scorers with 32 points, a transcendent performance wasted on a game destined for disappointment, as all four contests have been this season. Lee knocked down eight three pointers on 11 attempts and came within two points of his single-game career high.
But it didn't matter how well Lee played, or how well the team performed as a whole on the offensive end.
Very few teams can overcome 21 turnovers, and Drexel isn't one of them.
"It's two games — this game and the Saint Joseph's University game — where we just turned the ball over," Flint said after the game. "Just really bad timing where we just threw the ball away, just handed it to them."
A particularly brutal stretch midway through the second half saw a nine-point Drexel lead evaporate in five minutes of game time.
After a bucket from Lee made the score 50-41, Drexel, with 11:51 to play, the Dragons went five minutes and 16 seconds without converting a jump shot, committing six fouls and three turnovers to go along with three missed jump shots, a made layup and a dunk. When freshman forward Tyshawn Myles sunk a jumper with 6:35 to play, he tied the game at 58-all.
But at that point USC's full-court press was working in full effect and had managed to stunt Drexel's offensive rhythm, and the Trojans had found a way to force the Dragons into bad decisions.
"We did a lot of things in the last four or five minutes of the game that weren't very good," Flint said, "along with handling the ball."
And the veteran head coach told his players after the game that they'll have to get used to playing against pressure defense. Now that teams have seen how his squad handles press, he said that they can bet their opponents will be lining up to use the same scheme against them until the Dragons show they can beat it.
"I told them, get ready, because it's going to happen a lot," Flint admitted. "You're going to be getting pressed a lot. I would press us. We've lost two games this year by a basket because we threw the ball away for layups, and it's killed us."
The team has Nov. 22 off before playing the loser of Penn State University and Cornell University Sunday, Nov. 23, and then returning to Philadelphia for a much-needed break from games.
Flint said he'll be focusing on breaking the press in his practices during the week, but practice only does so much when it comes to facing press defense.
"I always tell people, 90 percent of pressure is panic," Flint explained. "If you panic, you're going to throw it away. I don't care how much we work on it: if you pressure and you panic, you'll throw it to somebody.
"You can't panic. Guys have got to take their time, be strong with the ball, and come back to the ball. That's what we've got to do."