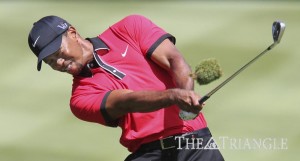 You cannot explain true greatness; you just know it when you see it. True greatness stepped up to the plate and hit a home run on his 22nd birthday. True greatness teed off at 8:35 a.m. in hopes of winning his 15th major championship three days later.
Mike Trout is great. Tiger Woods is great. Not only are these athletes great at their respective sports, but they are great for them, too. Major League Baseball needs a premier player like Trout to emerge as a star, and golf is exponentially more interesting with Woods in the mix.
Trout has shown us that greatness lives up to expectations. The Millville, N.J., native was underestimated going into the 2009 MLB Draft, as he was selected 25th overall by the Los Angeles Angels of Anaheim. After 44 minor league games at the end of the 2009 season, Trout was named the No. 2 prospect by Baseball America by the beginning of 2010.
Fast forward to 2012, when Trout had one of the most jaw-dropping seasons in history. He hit 30 home runs, batted .326 and produced an on-base plus slugging percentage of .963. In addition, he led the American League with 129 runs, 49 stolen bases and 10 wins above replacement. This was all after not being called up to the major leagues until 20 games into the season.
Even though Trout finished second in AL MVP voting behind Miguel Cabrera, he had already announced his presence with authority. As the 2013 season has unfolded, it is hard to believe, but Trout has actually improved at the plate.
As of Aug. 8, Trout has 20 home runs, 24 stolen bases and an OPS of 1.004. He is once again leading the league in runs with 80 and has 67 walks, which is already equal to his number from last season. Trout has been able both to sustain his greatness and to expand upon it.
Not only do Trout's numbers jump at you from the page, but his presence on the field also jumps at you. His at-bats are must-watch events; the way his long strides span the outfield is nothing short of spectacular; and his 6-foot-2-inch, 230-pound frame is built like that of a pristine thoroughbred.
Although there is no singular statistic to measure greatness, Trout just exudes it from every pore.
Woods, meanwhile, has shown that greatness does not disappear. The pinnacle of his career was in the 2000 U.S. Open at Pebble Beach, when he finished 12 under par, 15 shots ahead of two players tied for second place. He would go on to win the next three majors and complete the "Tiger Slam."
After he won the 2008 U.S. Open at Torrey Pines, Tiger stood at 14 majors, four shy of Jack Nicklaus' all-time record of 18, at the age of 32. But after five years, a reconstructive knee surgery and an infidelity scandal, he remains stuck on 14 major victories.
That has not stopped Woods from winning nonmajor tournaments. His recent win at the Bridgestone Championship marked his fifth win of the season and 79th of his career, three shy of Sam Snead's all-time record of 82.
Although greatness is ultimately measured at the most prestigious tournaments, Tiger's success at nonmajors cannot be ignored. At this point in golf history, the field is as talented as ever. For one player to rise above the pack shows nothing short of greatness week in and week out.
So if you choose to watch the PGA Championship this weekend, try to appreciate the greatness of the player wearing red on Sunday. And if you choose to stay up late to catch the underwhelming Angels in a West Coast game, try to appreciate the greatness of No. 27 flying around the ballpark. You shouldn't have to try too hard.