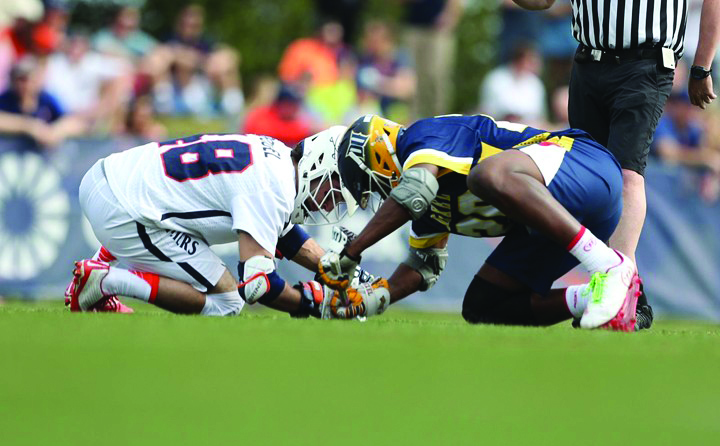 The Drexel University men's lacrosse team took a disappointing loss in its season opener against the No. 7 University of Virginia Cavaliers Feb. 18 in Charlottesville, Virginia.
In the first quarter, the Dragons won the opening faceoff to gain possession. After a shot attempt on goal that went too high, the ball was turned over to Virginia. Drexel had four turnovers in the first six minutes of the game.
In the next two minutes, Virginia senior Ryan Lukacovic scored two goals for the Cavaliers. The Dragons came back with 4:20 to go in the first quarter when senior Robert Frazee gave Drexel its first goal.
In less than a minute, freshman Reid Bowering recorded the first goal of his college career. With four seconds left on the clock, Virginia managed to score another goal and ended the first quarter leading 5-2.
In the second quarter, the Dragons outscored the Cavaliers 6-4, which brought them within one goal at the half. Senior Cole Shafer recorded two goals for Drexel. The remaining goals were made by sophomore Marshal King, senior Jeremy Omrod, junior Jacob O'Donnell and Frazee, who scored his second goal of the game to bring the score at the end of the second quarter to 8-9.
In the third quarter, the Dragons faced a strong offensive attack from Virginia as the Cavaliers scored four goals in the first 10 minutes. However, Drexel responded by scoring three more goals before the quarter's end. Shafer and Frazee scored their third goals of the game, and Bowering netted his second.
The Dragons were down just two goals at the start of the fourth quarter. With 11:31 left on the clock, the Dragons came within one of tying the Cavaliers. However, the Cavaliers managed to score four more goals before the end of the game.
The fourth quarter came to a close as the last goal of the game was scored by King to complete his hat trick. The Cavaliers won with a final score of 18-14.
"I was happy with our effort and how hard we played. I thought we were a little sloppy and had way too many turnovers," Head Coach Brian Voelker said, reflecting on this game.
In the game, Drexel had 25 turnovers compared to Virginia's 17.
"We really have to focus game to game. I thought our guys did a really good job focusing on the game against Virginia. Long term is to play better defensively. We need to work hard to prepare for the long season," Coach Voelker said, looking ahead for the Dragons.
The Dragons will have their first home game Feb. 25 against the No. 13 University of Albany Great Danes at Vidas Field at 1 p.m.